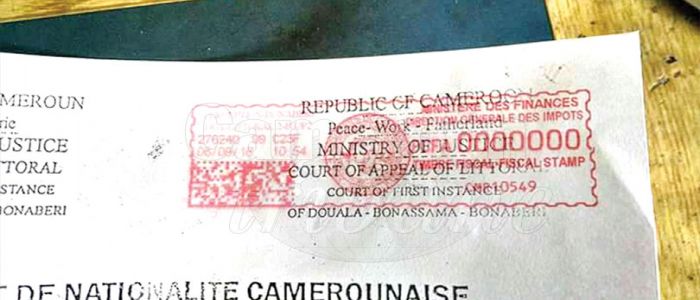 Fraudsters continue to defraud the State of revenue by issuing fake fiscal stamps to users, especially during this rush period of compilation of documents for competitive entrance exams.
The circulation of fake impressed fiscal stamps is gradually jumping to a frightening level, at least for Yaounde, Cameroon Tribune has observed. Etongo Pierre is a prospective candidate of one of the numerous competitive entrance examinations into the public service. He stands at the Centre Court of Appeal in Yaounde, looking very dejected in the morning of Friday July 14, 2017. Etongo tells Cameroon Tribune he is there to do a new Certificate of Non-Conviction after all previous documents he had done or certified were rejected the previous day during submission. The documents were said to have been forged because the FCFA 1,000 fiscal stamp on each of the five documents or so were not authentic.
Etongo's case is not an isolated one. Many others inadvertently acquire counterfeit fiscal stamps, especially when they make use of middlemen. At the Palais de Justice neighbourhood, just like in Province, many individuals pass for middlemen, assisting people who want to hurriedly process their documents against a fee. And in the course of trying to maximize gain, some of such middlemen resort to fraud.
A victim told this reporter that during this same period last year, he discovered that such middlemen issued him two fake fiscal stamps; one on a Certificate of Nationality and the other on a Certificate of Non-Conviction. The victim had solicited the services of the middleman to process the documents, only to realize the fiscal stamps and the entire documents were fake. He had requested that the documents be redone because his name was wrongly spelt on both documents. The middleman took less than three minutes to redo them, just opposite the Centre Court of Appeal without making an inch towards the court premises. We observed from a couple of fake fiscal stamps we stumbled on that the serial number, date, time and place of issue are the same, whereas it is not suppose to be the case. The red ink which also emanates from franking machines that produces such fake stamps looks thicker when compared to the authentic ones.
Same category