Boyo: CPDM Youths Lead Back To School Crusade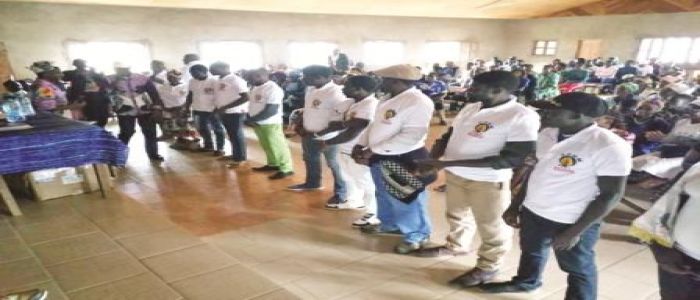 Boyo III CPDM Section youths create Task Force to combat threats to peace, security in neighborhoods.
Education for progress and prosperity was the message on August 27, 2017 when YCPDM youths of the Boyo III Section, Fundong stated preparedness to facilitate the hitch-free resumption of schools for the 2017/2018 academic year. The event was a YCPDM Joint sections conference in the neighbourhood of Abuh where a Task Force was created with a mission to check threats to peace and security on the eve of the 2017/2018 academic year. It was also a moment for the YCPDM Section President, Ahamdou Bello to stress the importance for children to return to school after a stressful 2016/2017 academic year with some children missing out on their right to education. He hailed the youths of Abuh-Muteff villages for organizing themselves to give peace a chance for children to resume the learning process in schools.
Boyo III CPDM Section President, Awoh Ndang Denis who filed out to encourage the youths of the party reminded them about the goodness of education. He said education is the hope of the youths for the future and mobilized them to ignore perpetrators of school boycott and build a future through education. The CPDM Permanent team leader for Boyo Division, Hon. Waingeh Albert Ndim also featured prominently with cheers for the youths who are poised to make their mark with initiatives that give education a chance in the backdrop of threats. It was also a moment for Section President, Awoh Ndang Denis to inspire the youths to enroll on electoral lists to feature as agents of change in future electoral exercises. Special messages equally urged parents to stand by the education of their children as the best investment towards the future.
Same category