Handball: World Cup Participation Campaign Launched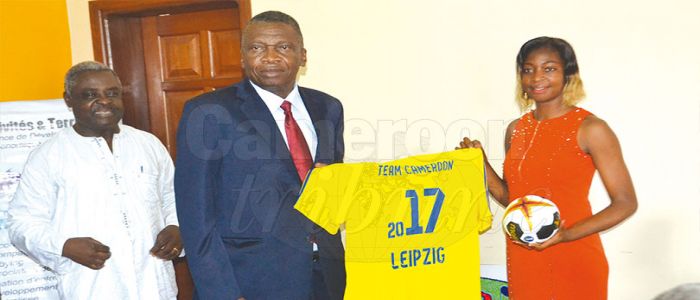 A protocol agreement between FECAHAND and CT&COM for the development of Cameroon's handball was signed in Yaounde on September 15.
The national women's handball team will take part in the 17th edition of the Women's World Handball Championship which takes place from December 1-17, 2017 in Germany.
Similarly, the national men's handball team will participate in the Senior Men's Africa Cup of Nations in Libreville, Gabon from January 16-28, 2018. It is in this light that a campaign to officially launch Cameroon's preparations for the two competitions took place at the headquarters of the Cameroon Handball Federation (FECAHAND) on Friday September 15, 2017. The launch was marked by the signing of a protocol agreement with the Cabinet CT&COM for the development of marketing potentials and communication for Cameroon's handball.
Speaking at the occasion, the President of FECAHAND, Raymond Mbita said the protocol agreement will enable the federation boost the growth and autonomy of FECAHAND in the domains of financial, material and technical resources. He expressed the wish that other partners will copy the example of CT&COM and support FECAHAND in their efforts. The ceremony was equally an opportunity to present the official jersey and ball for the upcoming competitions. Cameroon will play in Leipzig at the World Championship.
In spite of the problems hitting FECAHAND, handball continues to bring glory and fame to Cameroon in the international scene. These include the participation of the men's handball team in the World Championship in Kosovo in 2014, the national women's team won bronze at the 4th edition of the Islamic Solidarity Games in Baku and the second qualification for the World Championship during the Women's Africa Cup of Nations in Angola in 2016, among others. The finals of the 2017 Cup of Cameroon have been billed for Saturday September 23, 2017 at the Concorde Stadium at the University of Yaounde 1 while the national handball Play Off will take place on October 4-8, 2017 in Yaounde.
Same category