Mtn Elite One: Canon Relegated To Second Division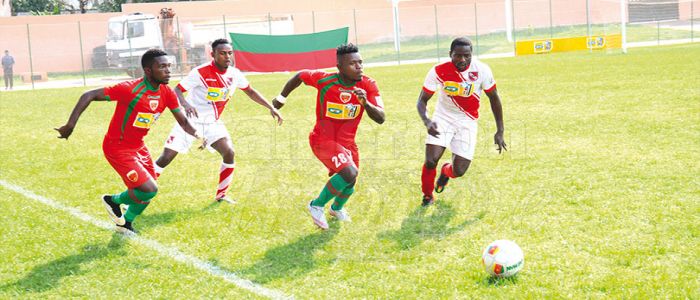 The Yaounde based club crashed before Feutcheu FC 2-1 yesterday during the 32nd day of play in Yaounde.
Canon Sportif of Yaounde will play in the MTN Elite Two championship next football season. The Yaounde based team lost to Feutcheu FC of Bandjoun 2-1 during the 32nd playing day of the MTN Elite One championship that took place in Yaounde yesterday September 21, 2017. Many supporters who thronged the Yaounde Military Stadium to watch the encounter went home disappointed as they believed that their beloved team still had chances of staying in the superior league. However, that was not the case as luck was not on the side of Canon.
The encounter began at exactly 4:30 p.m. as scheduled with each side determined to end the day happily. Feutcheu FC was out to maintain its place in the First Division while Canon struggled to get out of relegation waters. Canon started off with a more offensive game and created panic in Feutcheu's defence. At the 28th minute Stanislas Manadack opened scores for Canon Sportif of Yaounde. At half time the score line was 1-0 in favour Canon Yaounde. On resumption, Fetcheu FC put up a strong determination and was able to overcome Canon. This gave an advantage to Fetcheu FC and at the 64 minute Arsitde Ayissi scored the equalizer for Feutcheu FC. At the 83rd minute Joachim Mengueme scored the second goal for Feutcheu through a penalty kick. Efforts by Canon to equalize were in vain.
Canon from statistics has lost all chances of remaining in the MTN Elite One championship. Canon still occupies the bottom position with 26 points after 16 defeats. Even if they win the remaining two matches Canon will have only 32 points whereas Racing Bafoussam who are the first on the relegation zone have 33 points.
Réactions
Dieudonné Nké: « Il y a beaucoup de problèmes administratifs»
Entraîneur du Canon de Yaoundé
« On tenait ce match perdu contre Feutcheu et on peut nourrir des regrets. Malheureusement, je ne sais pas s'il faut dire que le sort est contre nous. Malgré la défaite, je suis satisfait parce que les enfants essayent de jouer au ballon, de donner ce qu'ils peuvent. Ce n'est pas la première fois qu'une équipe descend en deuxième division. On va seulement se remettre au travail pour remonter la saison prochaine. Quant à savoir ce qui a perturbé cette saison, c'est une question embarrassante. On sait tous qu'il y a beaucoup de problèmes administratifs dans le Canon et c'est ce qui l'a perturbé».
Jules Abah Onana: « Cette situation ne date pas d'aujourd'hui »
Supporter de Canon
« Canon est un club qui nous a fait rêver dans les années antérieures. La situation actuelle du Canon ne date pas de cette saison 2016-2017. C'est presque une décennie de tâtonnement sur le plan managérial. Pour que les joueurs s'expriment bien sur le terrain, il faut que les moyens soient réunis. Notamment sur le plan de la préparation physique et morale. Un travail administratif s'impose également. Pour changer les choses, il faudrait que tous les fils du Canon regardent dans la même direction».
Roger Ebodé: « ça fait très mal »
Administrateur de Canon
« Ce sont les réalités du football. Canon a perdu et nous gérons cette défaite. Dans tous les cas, Canon est déjà descendu. Nous allons nous asseoir, nous organiser et voir ce qui n'a pas marché. Mais le véritable problème c'est qu'il faut mettre les hommes capables à la tête de Canon, sans distinction. Des hommes qui servent le Canon et non qui se servent de lui. C'est le staff administratif qui a tué Canon. Cette année a été plus chaotique avec le changement d'entraîneurs huit fois successives. Nous allons nous battre à ramener notre équipe en 1er division. Ça fait très mal».


Same category