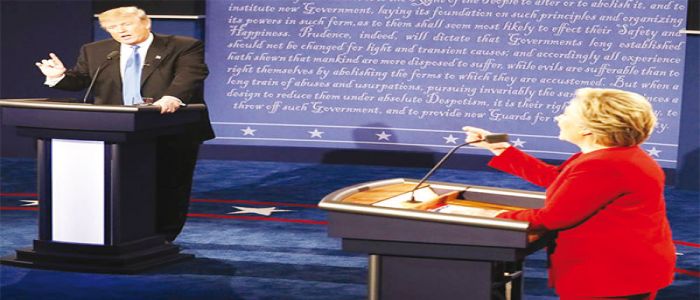 Donald Trump and Hillary Clinton debated on issues such as jobs, terrorism and race.
Momentum is gradually gathering steam ahead of the presidential election of November 8, 2016 in the United States of America to replace outgoing President Barack Obama.
Democratic party candidate Hillary Clinton and her Republican party rival Donald Trump clashed over pertinent issues in the first public debate on television on September 26, 2016 in New York. BBC reported that the candidates clashed over issues related to jobs, terrorism and race. CNN said Hillary Clinton forced Donald Trump onto defense over his temperament, refusal to release his taxes and his past comments about race and women during a fiery debut presidential debate on Monday. The news organs further said, Mrs Clinton delivered a strong performance in which she demonstrated a command of policy and a sense of humor, smiling through some of Trump's strongest attacks. Donald Trump, CNN said, came out swinging at the beginning of the debate, and made some effective points on the economy and jobs. BBC reported that the attacks turned personal as Mr Trump accused his rival Hillary Clinton of not having the right temperament to be president and she retorted by pointing out that Trump refused to release his tax returns.
The debate has had a great effect on the opinion polls. A CNN/ORC poll taken based on interviews with 521 registered voters chosen as part of a random national sample f...
Same category