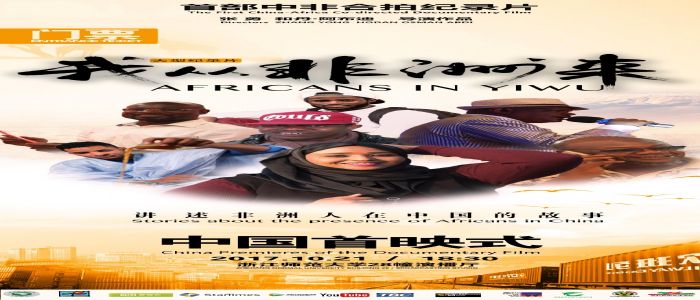 "Africans in Yiwu" is about the lives of 20 Africans in Yiwu City, Zhejiang Province.
All manner of stories are often told about the situation of Africans in China, largely based on hearsay or unverified information. In order to let Africans in China tell their own stories, two lecturers from Zhejiang Normal University, Jinhua, China, in early 2016 began shooting a six-episode, over three-hour-long documentary film, "Africans in Yiwu," produced by Liu Hongwu.
"We wanted to use the power of film to get our message across to the biggest and widest audience by using a unique new lens of a combined Chinese and African vision," said one of the directors of the documentary, Dr. Hodan Osman Abdi. "We followed the lives of over 20 individuals from different African countries for two years, documenting their journeys of self development and achievements," explained Dr. Somali-born Hodan Osman, a researcher and lecturer with the Institute of African Studies, Zhejiang Normal University. She is also the Vice Director of the Centre for African Film and TV Studies in the same university.
Hodan said she and her Chinese colleague and co-director of the documentary, Dr Zhang Yong, embarked on the project because they wanted to contribute to the global discourse on the presence of Africans in China. "The idea of the documentary was conceived by Zhang Yong. We began shooting in early 2016 and have just finished. We are now in the final editing stages. It is the first documentary film to be co-directed by a team of Chinese and African directors," Dr. Hodan Osman explained.
"Africans in Yiwu" was shown at the Zanzibar International Film Festival in Tanzania and opened the Lusaka International Film Festival in Zambia. "At both festivals, our film received great responses. It has been hailed by the Chinese, African and Western media as a welcome addition," Dr Hodan noted. The directors have been invited to screen the film at several venues, including the V&A Museum in London, Duke University and the London School of Economics.
Later this month, excerpts of the film will also be shown at the Somali Week Festival as part of activities marking Africa History Month in the UK. Similarly, agreements have been signed with StarTimes, the Tanzanian Broadcasting Corporation and the Zambian Broadcasting Agency to promote the documentary film. Excerpts are available on YouTube, Facebook and on the website, www.africansinyiwu.com.
Same category