Aerospace Development: C919 Jumbo Jet Sets Sights On Lucrative Travel Market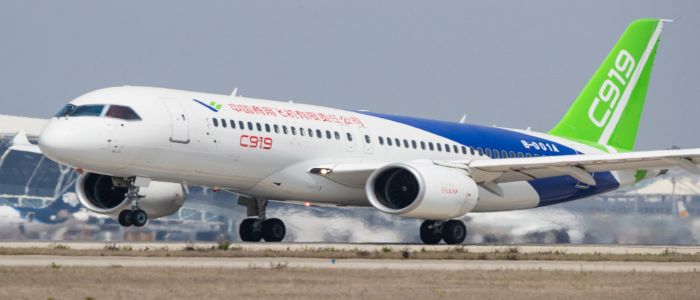 China's pioneer large passenger plane that was tested last May already has over 700 orders.
China on May 5, 2017 joined the world's league of manufacturers of large passenger planes after the C919 successfully carried out its first test flight from the Shanghai Pudong International Airport in the southeast of the country. The single aisle jumbo jet, which seats 168 passengers, is produced by Commercial Aircraft Corporation of China, COMAC, a State-owned firm founded on May 11, 2008.
At the time of its first trial flight, the C919 already had 570 orders from 23 foreign and domestic customers, including the national carrier, Air China. The number of orders reached 730 aircraft on September 19, 2017 after four domestic air leasing companies signed deals with COMAC. The figure is expected to surpass 750 by the end of 2017, analysts say. Meanwhile, the C919 on September 28, 2017 completed its second test flight in two hours, 46 minutes. Coded 10101, the jetliner took off from Shanghai Pudong International Airport and reached an altitude of 10,000 feet. The flight time was twice that of its maiden flight last May.
The jumbo jet will still undergo further test flights before mass production and commercial use after certification. The C919 costs about 50 million US dollars (27 billion FCFA), less than half of the price of a Boeing 737 or Airbus A320. With a standard range of 4,075 km, China's home-grown maiden passenger jet is comparable to the updated Airbus 320 and Boeing's new generation of 737 planes. The C919 follows on the heels of COMAC's development of a smaller regional jet, the ARJ21, which was flown by a Chinese airline for the first time last year.
Meanwhile, COMAC and Russia's United Aircraft Corporation, UAC, are working on producing the C929, a wide-body passenger aircraft. The jet, with a range of 12,000 km, is expected to be delivered in 10 years. It has four possible seating layouts for 280 seats in three classes, 291 seats in two classes, 310 seats in tight three classes or 416 seats all in economy class, Chen Yingchun, general designer of the C929 explained.
Last May's successful test flight by the C919 placed China amongst the world's four jumbo jet manufacturers after the US, Western Europe and rUSSIA. According to the International Air Transport Association, China is a major battleground for Boeing and Airbus, with the country's travel market expected to surpass the US by 2024. Airbus and Boeing estimate that Chinese airlines will need between 6,000 and 6,800 aircraft worth about 1 trillion US dollars (549 trillion FCFA) in the next two decades.
Same category