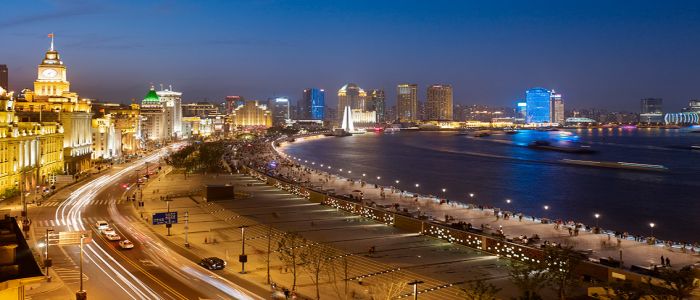 Apart from being a major financial and trade centre, the city also has much to offer to revelers.
Located on the mouth of Yangtze River in southeastern China, the municipality of Shanghai covers 6,340.5 square km, with a population of over 24 million. The city aims to become an "extraordinary metropolis, international economic, financial, trade and shipping centre, and innovative cultural city by 2040," says a handbook published by municipal authorities. Shanghai is already China's financial and trade hub, but there is the other side of city life, especially for revelers.
The Bund or East Zhongshan 1st Road is a famous waterfront leisure spot regarded as the symbol of Shanghai for hundreds of years. Some 1,500 metres long, the Bund is located on the west bank of Huangpu River between Waibaidu and Nanpu bridges. The site is referred to as the "museum of international architecture." The most famous attractions on the west side of the Bund are the 26 buildings of different architectural styles including Gothic, Baroque, Romanesque, Classicism and the Renaissance. There are also renowned monuments and sculptures, most visited by frolicking couples.
Shanghai Tower on the other hand is in Lujiazui Finance and Trade Zone of Pudong, with Shanghai World Financial Centre to the east and Jin Mao Tower to the north. It is 632 metres high (128 floors) and is China's tallest building - second in the world only to the Burj Khalifa Tower (828 metres high, 163 floors) in the United Arab Emirates. Visitors take the express elevator to the sightseeing deck on the 119th floor, a whole ride lasting only 55 seconds! Shanghai Tower is subdivided into five main functional areas. They include 24-hour offices for multinational companies and financial services, super five-star hotels, support facilities, etc.
In terms of political history, the home that hosted the Communist Party of China's first national congress on July 23, 1921 with 13 delegates (including the young Mao Zedong), has received 10 million visitors from home and abroad since its opening 50 years ago. According to Zhu Bei Liang, a guide since 9 years, between 5,000 and 6,000 tourists visit the little building every day. Situated on No.76 Xingye Road, the two-storey Shikumen building was completed in 1920 as the residence of two Communist Party members. In the living room on the first floor where the congress was held, everything is placed as it was 84 years ago. Upstairs is an exhibition hall with more than 100 CPC revolutionary relics, documents and photos on display.
Same category