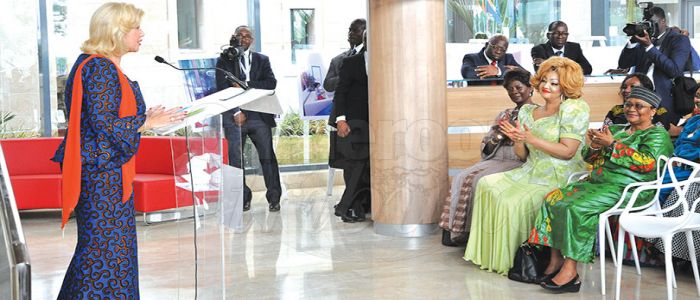 Alongside some other African First Ladies, she visited the mother and child hospital of Bingerville yesterday, November 30, 2017.
Day two of Mrs Chantal Biya's stay at the Economic Capital of Côte d'lvoire, Abidjan, was dedicated to issues she holds close at heart. That is, available medical care for mothers and children in the country.
As early as 10:00 a.m. on November 30, 2017, Cameroon's First Lady, Chantal Biya, joined a host of other First Ladies accompanying their husband for the 5th African Union-European Union summit to visit the "Dominique Ouattara" Mother and Child Hospital of Bingerville, located some 10 kilometres East of Abidjan.
On hand to receive Chantal Biya and her peers, was their host, First Lady of Côte d'lvoire, Dominique Ouattara, who is the brain behind the establishment of the hospital which will be officially inaugurated in March, next year. Upon arrival, the Executive Director of the Hospital, Frédéric Du Sart and the Medical and Scientific Director, Professor Sylvia Anoma, presented the hospital and its management team.
The main goal of the hospital is to provide quality healthcare to mothers, children and the poor in a bid to reduce maternal and neo-natal mortality in Africa in general, and Côte d'lvoire in particular.
Dominique Ouattara noted that the Mother and Child Hospital is a flagship project of her foundation; "Children of Africa Foundation." It is a social and humanitarian project with innovative medical and hopeful services to women and children.
The First Lady of Côte d'lvoire said the construction of the hospital is a project which started in 2012, and with the generous support from donors and an experienced team of professionals and volunteers, today, they are two steps away from finalising the initiative.
Thanks to support from Her Highness, Princess Lalla Salma of Morocco, through her foundation, the Bingerville Hospital will have a house of life for children with cancer besides providing other services to children such as Surgical Paediatric, Paediatric Oncology, Paediatric Nose, Throat and Ear treatment, Paediatric Cardiology, Paediatric Eye Care, Paediatric Endocrinology and Dental care amongst others.
The hospital will also provide quality gynaecological and obstetric services to all couples, especially those who want to undertake the artificial procreation method (In vitro fertilisation). As the First Ladies made a guided tour of the hospital, Mrs Chantal Biya was visibly happy as she was seen taking pictures of some of the items in the hospital.
The Bingerville hospital is a true replica of the Mother and Child Centre of the Chantal Biya Foundation created in 1994 by Mrs Chantal Biya, with main mission to raise national and international awareness on the fight against poverty, disease, misery and other types of exclusion in urban and rural areas.
For over two decades, the Mother and Child Centre of the Chantal Biya Foundation has widen it general healthcare to children to intensive and delicate treatment such as heart and cancer problems. At the end of the tour, Mrs Biya exchanged ideas with some of the dignitaries present during the visit.
Same category