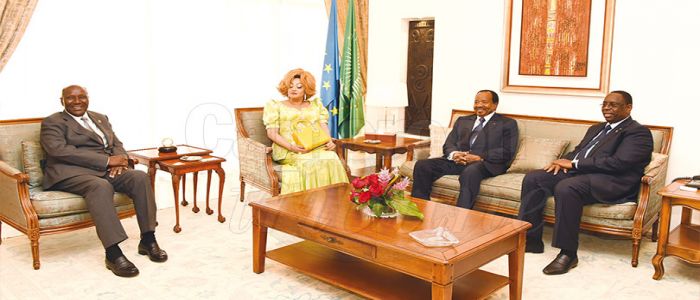 President Paul Biya and wife Chantal Biya left Abidjan yesterday, November 30 with rekindled hope after participating in the 5th AU-EU Summit.
The over 80 Heads of State and government from countries of the African Union and European Union including President Paul Biya of Cameroon, wrapped up deliberations at the Sofitel Hotel Ivoire, in Abidjan, Cote d'Ivoire yesterday, November 30, with twisted faces against the disturbing phenomenon African youth in particular are going through but with determination to end the scourge.
The host President, Alassane Ouattara in his speech delivered at the closing ceremony was more confident when he stated inter alia that the end of the summit in Abidjan was not in itself the solution of the problem but the opening of a new page of partnerships between Africa and Europe geared towards putting an end to the problem.
Considering the intensity of discussions on the various topics, epitomised by youth related problems, discussions one of the summit Chair persons, Alpha Conde described as frank and responsible, yesterday's closing ceremony was rather brief ending with a general declaration with focus on the slave trade in Libya.
If there was something Heads of State left satisfied with, it was the convergence of views, the conviction and determination towards enhancing reforms that will favour youth employment in an effort to discourage the massive exit from Africa to Europe. There was general agreement to open investigation on what has been happening in Libya, identify culprits and bring them to book.
But the youth representatives who were central in the confab kept reminding their parents not to disappoint them. This sounded like a clarion call which the Heads of State took seriously as could be discerned from the hope raising statement of one of them, President Conde. "Our action must hinge very much on the preoccupations of the youth", he said, adding that the fight against illegal immigration is a collective affair.
As participants retire to their various countries, the youth remain hands crossed as they wait to see how far the African and European Unions will push the button of solution. The worry as one of the reporters at the summit tried to find out from one of the panelists, is the absence of a follow up structure that will ensure the applicability of the Abidjan declaration.
The youth in their pre-summit declaration had made it clear that African and European continents are compelled to collectively work together in order to overcome the issues preventing progress within their interconnected societies.
This they said, requires support to and the advancement of education, skills development, mobility and access to markets, youth participation and young people's access to rights.
The perspective however give reason to hope according to President Ouattara as he concludes in his closing statement, "we should not disappoint our youth.".
Same category