Patricia Janet Scotland: First Female Commonwealth Secretary-General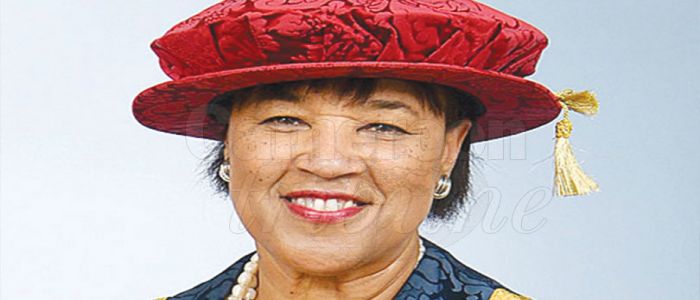 Before her appointment on November 27, 2015, she had climbed the various rungs of the United Kingdom administrative ladder.
The Rt. Hon. Patricia Janet Scotland, the Secretary-General of the Commonwealth who begins an official working visit to Cameroon yesterday, December 18, 2017, is a lady who is well grounded in administrative issues having occupied different professional and political positions in the government of the United Kingdom.
The Commonwealth Heads of Government during their summit in Malta on November 27, 2015 appointed Patricia Scotland the sixth Commonwealth Secretary- General and she assumed office on April 1, 2016. The dual citizen of the United Kingdom and Dominica who took over from Kamalesh Sharma of India, is the first woman to accede to the position of Commonwealth Secretary- General. Information from the Commonwealth Secretariat indicates that she was born on August 19, 1955 in Dominica and she moved to the United Kingdom with her family and grew up in east London.
Patricia Scotland was trained as a lawyer. She became the first black woman to be appointed a Queen's Counsel in 1991 and at 35 she was also the youngest woman ever to be made a Queen's Counsel. She is also the first black woman to be appointed Deputy High Court Judge, Recorder and Master of Middle Temple. She reportedly joined the House of Lords in 1997 as Baroness Scotland of Asthal going to serve as a Minister in the Foreign Office, Home Office and Lord Chancellor's Department.
Reports say, she undertook major reform of the criminal justice system, including the introduction of the Domestic Violence Crime and Victims Act. Patricia Scotland also goes into the annals of the history of the United Kingdom as the first woman to ever hold the post of Attorney General since it was created in 1315.
She was appointed to the post in 2007. In 2012, she was appointed Prime Ministerial Trade Envoy to South Africa and further elected the Alderman of Bishopsgate in the City of London in 2014. Besides serving in government, Patricia Scotland also devoted part of her life in charitable works.
She is the patron of the Corporate Alliance Against Domestic Violence, a charity which is the Catholic Church's official support organisation for overseas mission and also the patron of Children and Families Across Borders (CFAB), a charity dedicated to reuniting children who have been separated from their families.
Same category