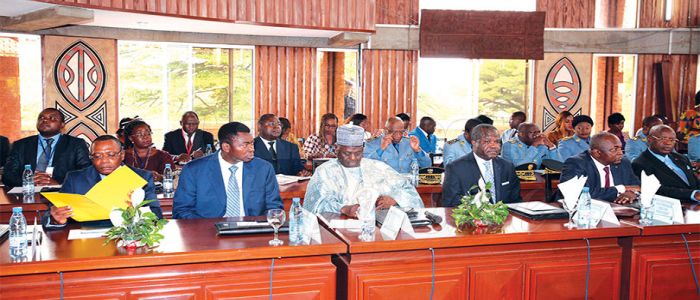 The preservation of peace and protection of territorial integrity are top on the agenda of the second semester conference of regional Governors holding in Yaounde from December 18 to 20.
Faced with security challenges across the country, the Governors of the ten different regions are meeting in Yaounde to reflect and exchange ideas on issues of safety. Meeting within the framework of their traditional bi-annual consultations with deliberations launched by the Minister of Territorial Administration and Decentralisation, Rene Emmanuel Sadi, focus is laid on safeguarding national peace, protecting territorial space and promoting the spirit of togetherness.
The get-together is holding under the theme, "Administrative authorities, changes in security threats, challenges of living together and the prospects of sub-regional integration." The challenges faced by the different regions will no doubt be scrutinised and security measures proposed for implementation.
Insecurity in the Far North, the social tensions in the two English speaking regions, the influx of refugees in the East, hostage taking in Adamawa, border security amongst others are some of the major concerns of the Governors who have the principal objective of ensuring stability and other issues of national interest.
The socio-political situation in the North West and South West regions occupy a prominent position of discourse following some unconstitutional practices by certain individuals.
The destruction of State symbols and property, attacks on defence personnel and secessionist declarations are security threats that affect peace and national integrity. The conference therefore serves as a platform in which administrative authorities will take the responsibility to concert on measures of reinstating order in conformity with the dispositions of the constitution for the wellbeing of all citizens. The population has been assured of the efforts by defence forces and administrative authorities in their respective missions of guaranteeing the security of all denizens.
However, the several mobile patrol units, more secured check points, monitoring of sensitive areas and the use of military logistics to secure the population are measures aimed at improving national security. Amongst the presentations at the conference will feature a statement from the Minister of External Relations on the relations between administrative authorities and Heads of diplomatic missions and consular affairs.
The Delegate General of National security will give a statement on the security coverage of the end-of-year festivities and the ramifications of the free movement of people and property in the CEMAC zone.
Same category