National Assembly; Commonwealth Secretary-General Encourages Dialogue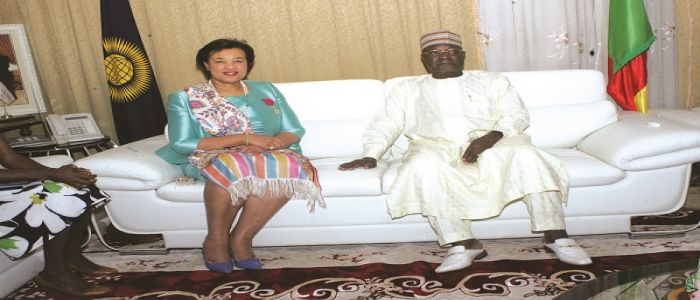 Patricia Scotland had talks with the Speaker of the National Assembly, Hon. Cavaye Yeguie Djibril on December 19, 2017.
The visiting Secretary- General of the Commonwealth, Patricia Scotland now knows much on the history and functioning of the National Assembly of Cameroon and ways of fostering parliamentary cooperation. On December 19, 2017 evening, she had more than one hour thirty minutes in-camera discussions with the Speaker of Cameroon's National Assembly, Hon. Cavaye Yeguie Djibril. Speaking to the press after the talks, the Commonwealth Secretary-General said they had fruitful discussions.
They used the audience to discuss parliamentary cooperation between Cameroon and Commonwealth and as well as challenges facing the Commonwealth. They also discussed the nature of the just ended November 2017 budgetary session in the National Assembly and she encouraged dialogue in the way of handling parliamentary business.
She also lauded Cameroon's participation in the Commonwealth since joining the organisation. After the discussions, the Speaker of the National Assembly, Cavaye Yeguie Djibril accompanied the Commonwealth official and her delegation down stairs.
This was another occasion for Patricia Scotland to better discover the history of Cameroon's National Assembly. The House Speaker presented to her photographs of the former Speakers of the National Assembly to her deep appreciation and admiration. Hon. Cavaye Yeguie Djibril equally accompanied his august guest to the car as she took off for the next destination of her visit.
The cabinet of the House Speaker reserved spectacular reception for the Secretary General of the Commonwealth. Elements of the Presidential Guard mounted the guard of honour. Security was equally relatively tight commensurate to the high personality that was received.
Same category