MINREX; New US Ambassador Received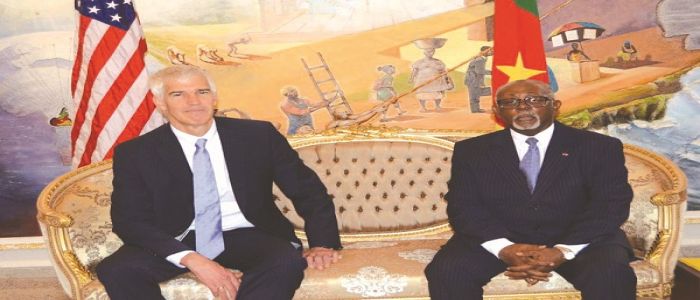 Ambassador-designate Peter Henry Barlerin presented the advanced copies of his letters of credence on December 18, 2017.
The Minister of External Relations, Lejeune Mbella Mbella on December 18, 2017 received in audience the new Ambassador-designate of the United States of America (USA) to Cameroon, Peter Henry Barlerin. The diplomat used the opportunity to present to the Minister the advanced copies of his letters of credence.
Ambassador Barlerin before his appointment to Cameroon, was the Deputy Assistant Secretary, Bureau of African Affairs, U.S. Department of State in Washington D.C, a position he held since 2016. He is a career member of the Senior Foreign Service, class of Counsellor.
Previously, he served at the State Department as Director of the Office of Economic and Regional Affairs from 2013-2016, and Deputy Director in the Office of Regional and Security Affairs, Bureau for African Affairs from 2007-2009. After that, he was Senior Advisor in the Office of Sanctions Policy and Implementation of the Economic and Business Bureau from 2012-2013. The new USA Ambassadordesignate to Cameroon is said to have expertise on Africa.
His leadership and management skills were said to be demonstrated when he served as Deputy Chief of Mission, U.S. Embassy Bamako, Mali from 2009-2012. During this period in Mali, a group of Islamic radicals and terrorists took over the north, and later army elements overthrew the democratically-elected President.
The holder of an M.A. from the University of Maryland, College Park, Maryland in 1986 has equally served his country in several capacities across the globe. He is said to be the recipient of 10 Department of State Superior and Meritorious Honour Awards.
Same category