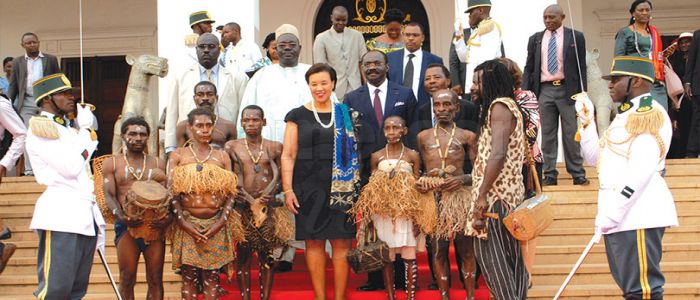 This was after a tour of the National Museum in Yaounde on December 20.
The Secretary-General of the Commonwealth, Rt. Hon. Patricia Scotland QC has applauded the edifying cultural diversity of the country. She made the remark after a visit to the National Museum in which she was presented with the different artifacts that make Cameroon ideal. "It was very insightful and rich opportunity to see the unity of Cameroon.
The fact that there are over 250 cultures all melted to make one unified Cameroon. All the different languages spoken and cultures are so important for the diversity of the nation. We looked at instruments that were created by Cameroonians about 5000 years ago. This is not about the Anglophone or Francophone, it is about Cameroonians and they come in all sizes and shapes just like the Commonwealth.
I think what is to be rejoiced in this museum is that of common heritage, and unity. I hope that Cameroonians will think about this as our peace building Commonwealth because all of us are part of the human family and all of us are proud of Cameroon," she stated. Patricia Scotland in two hours visited the 5000 meters building of 21 exhibition halls under the guidance of the Minister of Arts and Culture, Narcisse Mouelle Kombi.
She marveled at the different halls which consisted of a photo exhibition retracing the history of Cameroon under different themes from 1884 to 2015, ethnographic collections from ancestors, pottery and calabashes portraying the dexterity and craftsmanship of different artists, patrimonial musical instruments of different cultural zones, traditional dresses, powerful symbols of State and traditional authority and archaeological vestiges of different historical periods.
It should be recalled that the National Museum was built in 1930. The former Presidential Palace witnessed extensions made by the first President, Ahmadou Ahidjo in the early 1960s.
On November 17, 1988, the Head of State, H.E Paul Biya allocated the monument to the National Museum. Its restoration, technical and scientific studies made it an appropriate arena for cultural and historical expression of Cameroon beginning in 1991
Same category