African Standby Force; Cameroon Set For Inauguration Of Logistics Base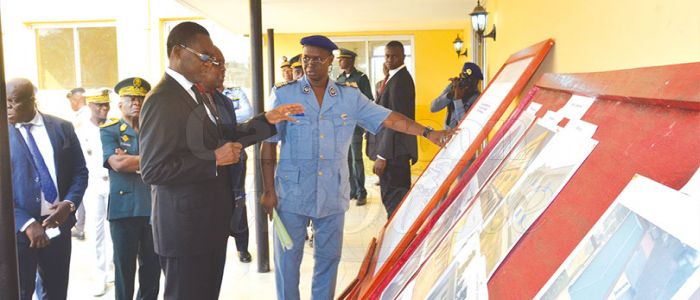 Construction of the base of the African Union's military intervention unit has been complated.
Cameroon is ready for the inauguration of the base of the African Standby Force located in Douala following completion of construction works. The Force is an international peacekeeping organ of the African Union made up of military, police and civilian staff, ready to intervene whenever and wherever there is conflict on the African continent.
The Minister of Defense, Joseph Beti Assomo, visited the newly constructed base yesterday December 20 accompanied by top ranking Cameroonian military officers. After undertaking a guided tour of the various structures of the base, he affirmed that the job has been more than 100 per cent complete.
"We went beyond the expected works and did some additional work on the behest of the African Union," he said. The construction of the base is in accord with a Memorandum of Understanding government signed with the African Union on October 2, 2015.
The logistics base was set up in the 201 Air Force Base. Setting it up consisted the transfer of some of the services of the Air Force to different locations, construction of new edifices beside already existing ones, renovating and upgrading dilapidated structures on the site among others.
They were done with funding from the government of Cameroon. Minister Beti Assomo told reporters after the visit, that all was perfectly done in order to keep a commitment that President Paul Biya took before his peers of the African Union.
He also revealed that the government and the African Union are all agreed that the staff to man the logistics base should be put in place so that the structure can be inaugurated. "The African Standby Force has a major role to play as regards peacekeeping operations of the African Union and humanitarian actions in case of disasters on the African Union," he said, adding that the installation of the base in Cameroon is a diplomatic victory which will be celebrated during the inauguration.
The launching event will be organized as soon as the President, who doubles as Chief of the Armed Forces,
Same category