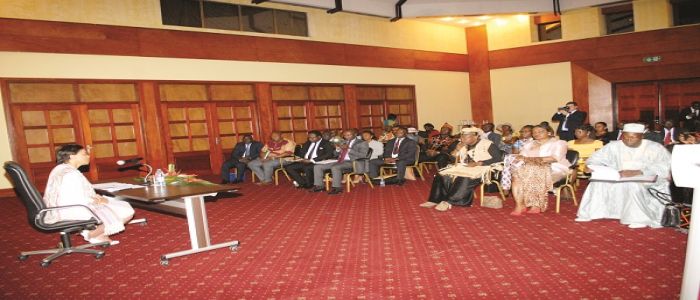 The visiting Secretary General of the Commonwealth held a close to one hour working session yesterday with the civil society.
The visiting Secretary General of the Commonwealth, Rt. Hon. Patricia Scotland QC has suggested that it is important for dialogue to commence as soon as possible, without any pre-conditions for its kick off. The Secretary General made the suggestion during a consultation with some leaders of civil society organizations in the country, Thursday December 21, 2017.
During the meeting, one of the participants, Dr. Willibroad Dze-Ngwa of Africa Network against Illiteracy, Conflict and Human Rights Abuse (ANICHRA) raised a call for general amnesty for all agitators of the Anglophone crisis as a pre-condition for dialogue. He also proposed that Anglophones be allowed to choose their leaders for dialogue.
However, Rt. Hon. Patricia Scotland QC said "if the crisis is to be addressed, it will only be through dialogue." She noted that setting pre-conditions for dialogue would not be a good idea.
According to the Secretary General of The Commonwealth, should dialogue be commenced without pre-conditions, it would pave the way for other concerns such as the release of those arrested in connection to the crisis in the North West and South West Regions to be addressed. Rt. Hon. Patricia Scotland QC reiterated the Commonwealth's ideals of peace, unity, good governance and the respect of the human rights of all citizens.
She said the Gentlemen's Club was committed to see into it that such ideals reign in Cameroon; a Commonwealth member country. Besides discussing on issues related to the Anglophone crisis, the meeting with leaders of civil society organizations was also an avenue for the visiting Secretary General to highlight some of the areas where The Commonwealth is poised on intervening.
She noted that the Commonwealth is now very much concerned about climate change, making allusion to recent mudslides in some parts of the country. Rt. Hon. Patricia Scotland QC said The Commonwealth has a special fund which member countries can access to boost their resilience efforts.
On education matters, she disclosed that a Commonwealth Education Ministers' Meeting is in the pipeline to discuss generic and specific issues on education, especially those which concern women and girls. She said emphasis will be laid on promoting inclusion and social cohesion.
After the close to one hour consultation, Rt. Hon. Patricia Scotland QC thanked the about 50 civil society leaders for their fruitful and good dialogue. She said the issues they have raised will be taken into consideration and it will be the right step towards inclusive dialogue. Amongst the attendees were activists in peace building, climate change, education, and agriculture.
Same category