Socio-Political Situation in Cameroon: Commonwealth SG Consults Political Leaders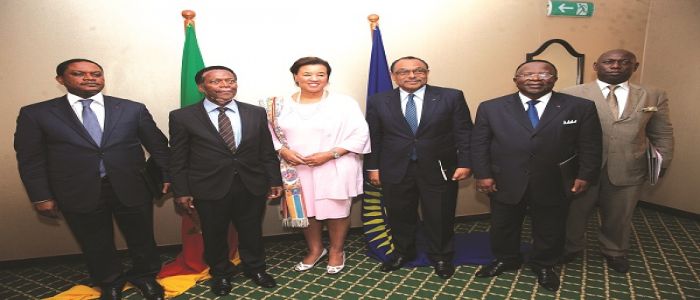 Rt. Hon. Patricia Scotland yesterday held separate and in camera discussions with leaders of political parties represented at the Senate and the National Assembly.
The Commonwealth Secretary- General, Rt. Hon. Patricia Scotland, yesterday December 21, 2017 had talks with the leaders of different political parties represented at the Parliament. On day four of her official visit to Cameroon, Patricia Scotland discussed the sociopolitical situation of the country in relation to shared values of the Commonwealth.
The CPDM delegation was led by the Secretary General of the Central Committee, Jean Nkuete. Speaking on behalf of the delegation, the Deputy Secretary General, Grégoire Owona said they had an in-depth discussion with the Commonwealth Scribe and for what is certain is the fact that dialogue will continue as the way forward.
He added that the Head of State had taken several measures geared at finding a lasting solution to the grievances raised and will continue in that same light. For the Chairman of the Social Democratic Front, SDF, their discussions were fruitful with most of the major issues plaguing Cameroon being discussed.
"We talked about the Anglophone situation and the elections governing body, ELECAM. We came to a common understanding that she understands the problems. Cameroon became part of the Commonwealth because of the Anglophone culture and therefore the worries of the region directly or indirectly affect the Commonwealth family to an extent.
We are saddened with the different deaths and children not going to school," Fru Ndi stated. Senator Dakole Daisalla of the Movement for Defense of the Republic (MDR) party said any issue affecting the country should not be treated as an individual problem but rather as a country worry.
Going by him, the social upheavals in the English region of the country, terrorist attacks in the Far North, refugees in the East and other problems are expected to be tackled collectively as a nation and not tagged as regional or personal challenges.
To Hon. Tomaino Ndam Njoya of the Cameroon Democratic Union, the meeting with political parties is indeed a great sign of leadership. She however stated that the different problems the country is facing can only be solved by Cameroonians and not a foreigner.
The UDC Member of Parliament stated that political exchange was however necessary for sharing of ideas. The UPC party through Hon. Ngo Nyaga Djon II reiterated their stand against violence and the destruction of properties. For her, constructive and peaceful methods should be used to pass across messages of grievances by unsatisfied citizens .
Same category