Buea: Commonwealth Secretary-General Gathers Peace Proposals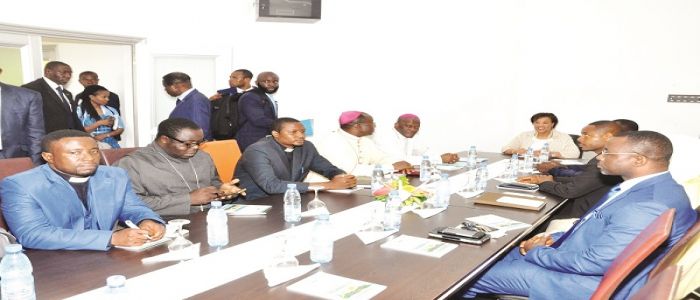 The Rt. Hon. Patricia Scotland met with the cross section of the South West socio-professional leaders in Buea on September 22, 2017
The Secretary-General of the Commonwealth, the Rt. Hon. Patricia Scotland left Buea Friday, December 22, 2017 after having discussed with socio-professional and traditional leaders in the South West Region on ways of solving the security crisis currently rocking the North West and South West Regions.
Patricia Scotland had a working session with leaders of different groups in the South West Region in Buea on the greater part of December 22, 2017 after which she was jetted back to Yaounde and she left Cameroon late at night. Summarizing her discussions in Buea, she said, "I was able to speak to many groups in Buea.
I spoke to the Governor, leaders of churches, young people, traditional leaders and civil society." Concerning the major concerns, Patricia Scotland said, "From all of them, I heard the same message. We want dialogue, we want peace.
I have been privileged to be able to listen to messages from all parts of Cameroon and stand to see them synthesized into one overwhelming message." In the Governor's Office where the Commonwealth Secretary General started the visit to Buea, she had the opportunity to get a succinct presentation of the South West Region.
After Governor Bernard Okalia Bilai's presentation, Patricia Scotland said, "I have come to see for myself what has been happening in the North West and South West Regions and to hear from you how we can maintain peace and security."
The Commonwealth Secretary General asked questions to Governor Okalia Bilai and obtained some answers on the challenges facing the South West, what needs to be done to resolve the crisis in the North West and South West Regions, allegations that the defence and security forces have not been sufficiently temperate in reacting to attacks and how the muchclamoured
for dialogue could be advanced.
After getting the answers, she said, "I will take away the message with me." In the ensuing in-camera working sessions at the Buea Council Chamber, Patricia Scotland had separate
discussions with representatives of South West Chiefs, South West youths and civil society organizations. The working session with religious leaders still from the South West took place at the Buea Mountain Hotel.
After the discussions, the Bishop of the Buea Catholic Diocese, Immanuel Bushu told the press that their main proposal was dialogue in which everybody is at the same level. The youths one of whose leaders is Achaleke Christian Leke called on the Commonwealth Secretary General to create a structure to ensure sincere and effective dialogue to solve the crisis.
He said youths who are victims of violence should be included in the dialogue process. The traditional rulers said the effective implementation of the 1996 Constitution, specifically decentralization could be part of the solution.
Same category