Posts and Telecommunications Sector: National School Officials Commissioned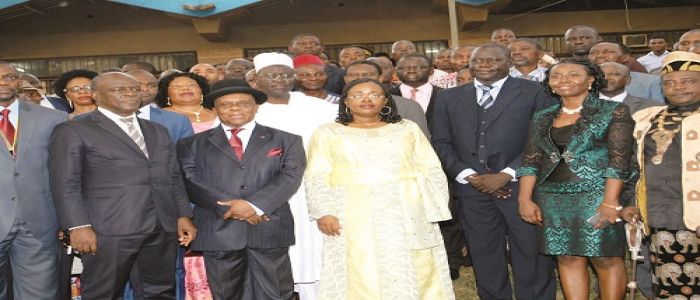 The ceremony took place on December 22, 2017 and was chaired by Posts and Telecommunications Minister, Minette Libom Li Likeng.
Three officials appointed last December 4, 2017 by decrees of the Head of State to the functions of Board Chair, Director and Deputy Director of the National Advanced School of Posts, Telecommunications and Information and Communication Technologies (SUP'PTIC) have been installed.
The ceremony was presided at by Minister Libom Li Likeng in the presence of officials of the Ministry of Posts and Telecommunications, international institutions and cooperate bodies among others.
According to the Minister, the strategic development of digital economy for digital emergence by 2020 presents a number of challenges and SUP'PTIC must be able to contribute sustainably to achieve this dream.
This is in order for the country to develop the broadband infrastructure, increase the production and supply of digital contents among other demands. She urged the newly installed to use their wide experience to enable the institution be a citadel of learning recognised in Africa.
The appointment of the officials comes a year after a December 26, 2016 presidential decree changing and reorganizing the institution. Pr. Guillaume Bwelle the new board Chair, is a holder of a Doctorate in Humanities and Letters obtained in the University of Paris and has held several important responsibilities.
While the Director, Félix Watching is a telecommunications engineer born in 1969 and he is a holder of a Master II in Engineering obtained in the same institution. Dr. Leontine Nkamba is a holder of a Ph.D in Mathematics. The young dynamic lady born in 1977 is now Deputy Director in charge of studies. This is a clear indication that the gender equality policy advocated by the President is respected.
Same category