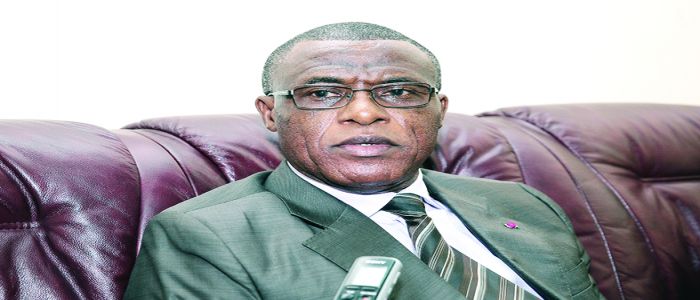 Ngole Philip Ngwese, Minister of Forestry and Wildlife.
Your ministry has been putting up a relentless fight against poaching, yet the vice persists. What are the challenges?
We face challenges at three different levels: Firstly in the human resource domain. In terms of numbers, the forest guards are not yet enough to cover the area under our control or which we are to control. Remember, sometimes back, recruitments into the public service were suspended but gradually the situation was regularised. A few eco-guards are recruited and put at my disposal but we are trying to step up the numbers. The second challenge is the training itself. Not all of the ecoguards have proper or adequate training. However, we are doing everything to ensure they are up to standard. Due to the realities on the ground, it can be noticed that the poachers we had yesterday are different from those today as those nowadays are heavily armed and more equipped. They use war weapons and ammunitions to bring down elephants. So consequently, I think we have to setup the training of our staff and that is exactly what we are doing. Again, we have a setback at the level of the equipment; weapons and ammunitions, our staff on the ground are using but for the past four to five years, we have been working with the Ministry of Defence. We have already acquired a good number of modern weapons to enable ecoguards face the challenges they meet on the ground.
We are aware there is a management plan for protected areas. How far have you gone with implementation?
We have difficulties to implement our management plan of these protected areas. In 2012, following the mass killing of elephants in the Bouba-Ndjida National Park, we came up with an emergency development plan of protected areas, which we thought will be financed, given the enthusiasm shown by some of our partners. It was a five year development plan (2012-2017) and we needed about FCFA 126 billion. No sooner was the plan adopted our partners began dragging their feet and government has been doing it virtually alone and you agree with me that with the meagre resources we have, it is not easy to implement such programmes.
What appraisal do you make of the collaboration of locals in anti-poaching efforts?
There is complicity on the ground. We have little collaboration from the people and those you could not suspect could be involved in such business are caught in poaching activities, thus making the issue difficult and compounded for us. Yet, we have the duty to track them down and we are doing just that. I can assure the poachers will always meet us on their way.
Same category