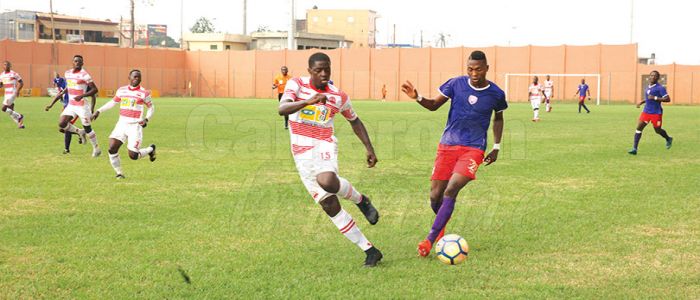 The fifth playing day of the MTN Elite One championship took place in stadiums across the country on Sunday, March 4, 2018.
As the MTN Elite Championship rolls on, more surprises are being created. Three teams UMS Loum, Yong Sports Academy of Bamenda and AS Fortuna of Yaounde are now topping the classification table with nine points each. This was the outcome of the fifth playing day of the MTN Elite One championship that took place across the country on Sunday March 4, 2018.
A total of nine games were played with 13 goals scored and two draws recorded. The competition has become stiff as each club wants to occupy a comfortable seat on the league table. Even though Feutcheu FC of Djiko had already taken the lead after the fourth playing day they however lost their position after they fell before Union Sportive of Douala 0-2 at the Middle Farm Stadium in Limbe.
That was the first defeat for Feutcheu FC since the beginning of the championship. Still in Limbe New Stars beat Stade Renard 2-1.
In Yaounde Dragon Yaounde lost to Colombe of Dja and Lobo 0-1 at the Omnisports Annex Stadium. The defeat was the third conservative one for Dragon since the beginning of the national championship. Still in Yaounde, UMS Loum beat Yaounde FC 2 2-0 at the Football Training Centre in Odza and AS Fortuna beat Bamboutos FC 1-0 in a match played at the Yaounde Military Stadium.
In Dschang, Aigle Royal played a 0-0 tie with APEJES Academy. After five playing days APEJES is yet to register their first victory.
Aigle Royal is the only team still to score a league goal this season. In Bafoussam Fovu of Baham drew 1-1 with Eding Sport FC. In Bamenda Yong Sport Academy beat Unisport Bafang 1-0. YOSA have not conceded any goal this season and are deemed the team with the best defence. In Buea Astres drew 0-0 with Coton Sport.
At the end of the fifth playing day, UMS Loum has nine points, followed by YOSA nine points and AS Fortuna nine points. Eding Sport is fourth with eight points and Fovu is fifth with eight points. Three teams are swimming in relegation waters.
They are Yaounde FC 2 has four points, APEJES Academy has three points and Aigle Royal has three points. The next playing day has been billed for tomorrow across the country.
Same category