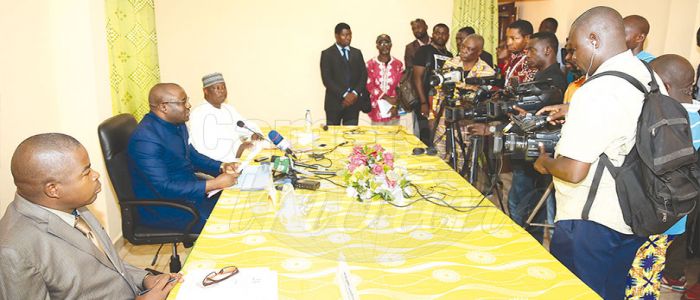 ANAFOOT General Manager published the list in Yaounde on Wednesday during a press conference.
From February 1 to 18, 2018 experts from the National Football Academy (ANAFOOT) were on the field to select of future trainees for the first generation of the regional poles of ANAFOOT. The final lists of the first ever batch of trainees for the ANAFOOT Regional poles were made public during a press conference in Yaounde on March 7, 2018.
Speaking at the occasion, the General Manager of ANAFOOT, Carl Enow Ngachu said the selection exercise carried out in the regions respected the rules of impartiality and neutrality as work was done based on the jersey numbers. He said ANAFOOT is working hard to attain its mission which is to select 50trainees for the Football Training Centre in the days ahead.
For 18 days, the 20 experts from ANAFOOT including former Indomitable Lions player and a product from a football academy examined the children thoroughly with the only reference being the jersey numbers and their talents.
To carry out the selection tests, Cameroon was divided into two zones notably zone one made up of Adamawa, Centre, East, Far North and North regions and zone two constituting the Littoral, North West, West, South and South West regions.
The youths were evaluated on the bases of their techniques and through test matches. Only young children who were recommended by all the experts were selected. At the end of the exercise 50 trainees were selected for each regional pole notably 25 girls and 25 boys in most of the localities.
In addition to the 50 students an additional list of 10 trainees were added to bring the number of candidates to 60 per region. In all 600 youths were admitted in to the ANAFOOT academy. The lists of the trainees were equally handed over to the heads of the different regional poles.
The academy will be an external training centre. The trainees will have three days of football per week. Training will be free but the trainees will have to pay FCFA 10,000 as registration fees and FCFA 4,000 for training kit. Effective training in all ANAFOOT training centres begins as from Saturday March 10, 2018.
Same category