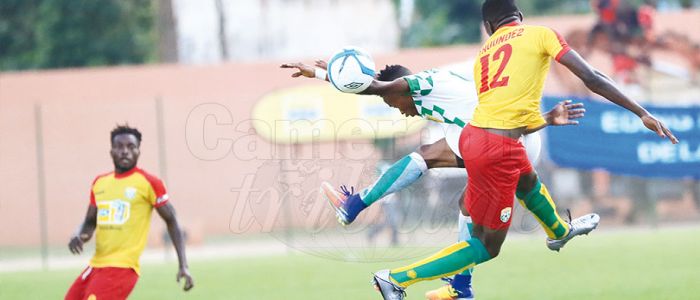 The ongoing national championship will enter the seventh playing day on Sunday March 11, 2018 in stadiums across the country.
After six playing days the battle for the top seat on the national championship appears to be fierce as things have changed at the top of the table. Unlike in the fifth day where three teams were leading the championship the situation however changed after the sixth playing day that took place on Wednesday March 7, 2018.
The seventh playing day promises to be exciting as each team will be fighting hard to improve on their positions on the league table. At the moment Feuctheu FC is now occupying the top position with 11 points.
Fovu of Baham is second with 10 points, Unisport Bafang is third with 10 points and Yong Sport Academy has 10 points. League leaders, Feutcheu FC will welcome Unisport Bafang.
The team will be out to win in order to distance its self from the others. Meanwhile, the battle will be stiff within the ranks of Fovu, Unisport YOSA and AS Fortuna who will equally be out to overthrow Fetcheu FC giving that they are separated by one point each. In the day six matches on Wednesday matches Dragon played a 0-0 tie with Yong Sport Academy in Bamenda.
The performance of YOSA is worth noting as the team now has six matches played without any defeat and no goals conceded. YOSA will be fighting to maintain the same performance or even do better on sunday. Fovu of Baham beat New Stars 1-0 in Dschang.
In Yaounde, Colombe of Dja and Lobo beat Aigle Royal 1-0. Since the beginning of the championship Aigle Royal has not won any match. It is expected that the team will be able to pick up as from the seventh playing day come Sunday.
The most interesting encounter was that between Eding Sport FC and Bamboutos. In Yaounde, current champions Eding Sport lost to Bamboutos 0-2 in Yaounde while Feutcheu FC beat Yafoot 2-0 to occupy the top seat.
The defeat was the third conservative one for the newly promoted Yaounde team. In Loum, UMS Loum played a 0-0 tie with Stade Renard in a regional derby.
In Limbe Coton Sport beat Union Duala 1-0. Coton Sport which is presently occupying the sixth position has a total of six goals scored with nine points. Next Sunday's encounter will be an opportunity for the teams to move another step ahead on the classification table.
APEJES drew 2-2 with AS Fortuna. APEJES now has the weakest defence in the championship with 10 goals in six matches. They will need to work hard to save face in the seventh playing day.
Same category