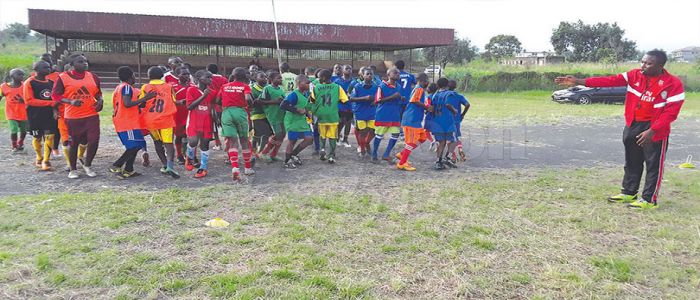 The 25 boys and 25 girls will join others in Yaoundé in August 2018 for the final selection.
Young talented footballers that were scouted in the South West Region last February 4 and 5, 2018 by the Cameroon Football Academy with French acronym ANAFOOT have started training in Buea.
The 25 boys and 25 girls are bracing up for the final selection billed for August 2018 in Yaoundé at ANAFOOT headquarters where each of Cameroon's 10 regions will be presenting 50 selected talents.
The training exercise that started on March 10, 2018 at the campus of the University of Buea, saw all the footballers answered present. Under the watchful eyes of Asongu Azemchop, South West Regional Coordinator of ANAFOOT and his technical staff, the footballer engaged in several exercises. First came warm up, followed by ball leading and ball juggling.
The exercises which were for two minutes and was to be repeated three times, ended up being repeated severally given that it was the first training session. Six squads were then formed from the 50 footballers. This set the ball rolling for directives in the field of play on how to handle football.
Asongu Azemchop explained that training sessions have been programmed for Wednesday and Saturdays as from 3:30 pm. On these days, the training session is billed for one hour 30 minutes.
On why is the team training without a medical doctor on standby, Asongu Azemchop indicated that Kadiri Ndip Agbor Obale was appointed on the neighbourhood of March 9, 2018 as the team physiotherapist.
He assured that the physiotherapist will be available during the next training session. Among the chosen talents is 13-years-old Asah Blanche, a form Three student of Government High School Bolifamba near Buea.
She indicated that her passion has always been to be a footballer. She expressed gratitude to ANAFOOT for presenting a platform where her dream will blossom. "I am going to Yaoundé in August 2018 knowingfully that I will be part of the final selection," she stated.


Same category