MTN Elite One: Feutcheu FC Maintains Lead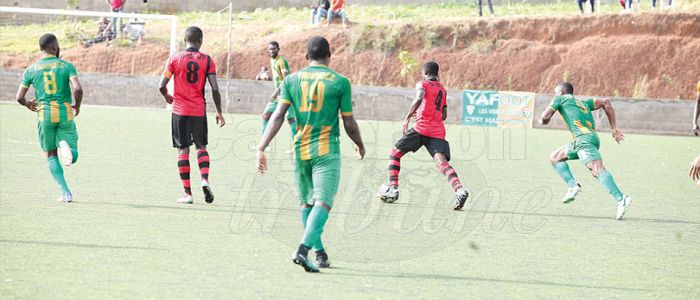 Matches counting for the seventh playing day of the national football championship took palace in stadiums across the country on Sunday, March 11.
Feutcheu FC of Djiko has tightened its grip at the helm of the ongoing MTN Elite One football championship. They beat Unisport Bafang 3-2 in a West regional derby in Bafoussam on Sunday, March 11, 2018 to secure their leadership position. Nine matches and 20 goals were scored during the seventh playing day of the national championship.
At the end of the seventh day Feutcheu is topping the league table with 14 points. Feutcheu is not only leading the classification table but now has the best attack with 10 goals scored after seven days of play. Fovu of Baham is second with 14 points and UMS Loum is third with 13 points.
Coton Sport of Garoua has 12 points and Unisport Bafang is fifth with 10 points. In spite of the intensity of the competition the status quo remains as only the top teams continue to dominate the classification table since the beginning of the championship.
At the Football training Centre in Odza, Yafoot beat AS Fortuna 2-1 in a Centre regional derby. In another regional derby Dragon Yaounde played a 2-2 draw with Eding Sport FC of Lekié. In Garoua Coton Sport beat Yong Sport Academy of Bamenda 1-0. That was the first defeat for YOSA since the beginning of the season.
For Coton Sport it was the third consecutive match without conceding any goal. In Buea Union Sportif of Douala lost to Astres Douala 0-1. In Limbe UMS of Loum thrashed New Stars Douala 3-0. In Melong Stade Renard beat Colombe of Dja and Lobo 1-0.
In Dschang Aigle of Dschang lost to Fovu 0-1. That was the seventh defeat for Aigle and with no goals scored since the start of the competition. Consequently, the head coach Fagnia Fagnia and his assistant, Njiki Simplice, have been fired from the team. Still in Dschang, APEJES FC beat Bamboutos 1-0.
That was the first victory for APEJES in the ongoing championship. Meanwhile, four teams are swimming in the relegation waters. Yaounde FC 2 at the limit of relegation with seven points, Dragon Yaounde six points, New Stars four points and Aigle Royal closes the table with three points.
Same category