Poverty Reduction, Decentralisation, Others: President Biya Wants Results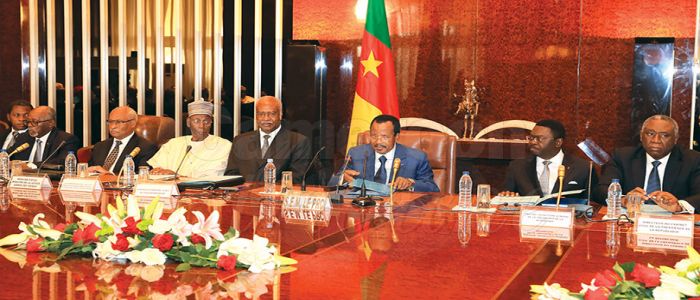 Clear instructions were given to government at the State House yesterday, March 15, during the Council of Ministers Meeting.
The facial expression of members of government who streamed out of the State House yesterday March 15 after the Council of Ministers Meeting presided at by the Head of State, President Paul Biya indicated that the meeting discussions were serious.
The meeting that started at 12 noon ended barely 15 minutes later but the issue is not how early it ended but the content.
The Council of Ministers Meeting remains one of the major events in the Cameroon governing system on which the country hinges for progress. It was the first time newly appointed members of government were participating and they certainly were anxious to receive the instructions of the Head of State after the confidence bestowed on them.
As early as 10:55 A.M, the first member of government appeared at the Unity Palace. The arrivals which continued till 11:41 A.M caught much attention but the real issue was still to follow; instructions from the Head of State.
As stated by the Prime Ministers, Head of Government, Philemon Yang, the President gave clear instructions and asked the government to work very hard in order to merit their appointment and also to serve the population for which it is responsible.
All these were embodied in the President's statement which in very clear terms pointed out the exigencies and expectations of the population that await government especially in 2018.
Boosting economic performance, improving the living conditions of the population and the fight against unemployment are among the issues that must be given priority. To better achieve this, President Biya stated inter alia the obligation to further the implementation of the programme concluded with the International Monetary Fund, finalise the execution of structural projects, fast tract the emergency plan to accelerate growth and the implementation of the special Youth plan.
Yesterday's meeting was another occasion for the President to revisit some of the burning issues he has had time to frown at, notably the irrational use of State resources and lavish expenditure observed among government administrators. President Biya urged government to provide a detailed programme for decentralisation implementation.
Other areas of concern included: the insecurity in the Far North, North West and South West Regions, where he called on defence and security forces to foster efforts in order for economic and social life to return to normal and preparations for the 2019 Africa Cup of Nations.
Same category