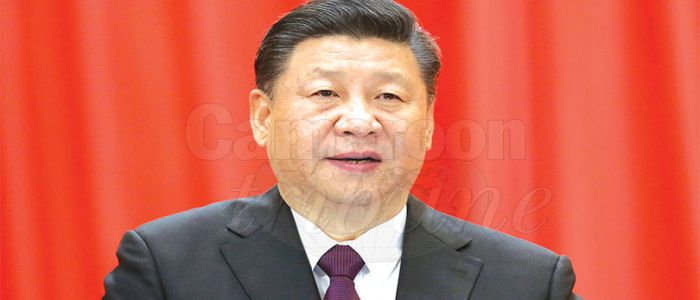 He spoke on March 20, 2018 in Beijing at the close of the annual sitting of Parliament.
China, the world's most populous country and second largest economy has been described as a nation with people of "great spirit of struggle, creative, united, and real heroes and whose pursuit for progress has never stopped." President Xi Jinping made the remarks on March 20, 2018 in his keynote closing address at the first session of the 13th National People's Congress, NPC in the Great Hall of the People in the capital, Beijing.
"Today, the creativity of the Chinese people is being unleashed to an extent like never before, which has been enabling our country to develop rapidly and be at the forefront of the world," Xi said, noting that the efforts of the Chinese people have led to tremendous transformation of the country. "China has stood up, grown rich, and is becoming strong...We have a favourable development environment that was unimaginable before, but we still face unprecedented difficulties and challenges," Xi admitted.
Praising Chinese people for holding fast to their great dreams, he restated his faith in realizing the country's national rejuvenation vision. To him, as long as the 1.3 billion Chinese people keep carrying forward this great spirit of pursuing dreams, they will realize the Great Rejuvenation of the Chinese nation. Comparing the process to materialize China's blueprint to another Long March, the Chinese President warned against being satisfied with the status quo, indulging in ease and comfort, or letting delight dispel worries.
He called on his compatriots to stay true to the original aspiration, hold on to the mission and strive to accomplish it. Xi pledged to be guided by Marxism-Leninism, Mao Zedong Thought, Deng Xiaoping Theory, the Theory of Three Represents, the Scientific Outlook on Development, and the Thought on Socialism with Chinese Characteristics for a New Era.
He noted that if the country adapts to the new historic juncture for development and responds to the principal contradiction in Chinese society, it will uphold the great banner of Socialism with Chinese characteristics and fully implement the spirit of the 19th Party congress. The Chinese leader also had a word for Taiwan Province, warning that any attempt to separate from the mainland was "doomed to fail" and will be strongly resisted.

Same category