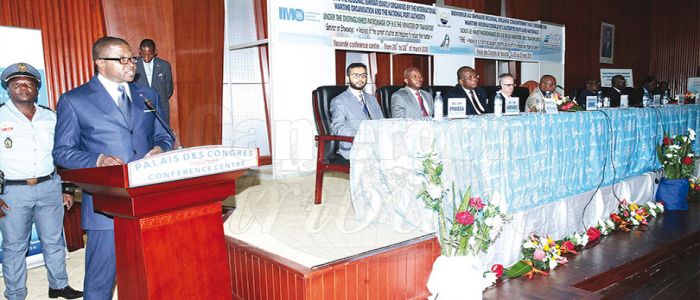 International experts and port managers are meeting in a workshop in Yaounde to analyse the current situation of stowaways passengers on ships and define strategies to reduce their number.
The UN's International Maritime Organisation (IMO) and the National Ports Authority have jointly organised a seminar in Yaounde, bringing together international maritime experts and managers of selected ports in Africa. The three-day seminar opened March 20 by the Minister of Transport Jean Ernest Massena Ngale Bebehe is aimed at analysing the state of play of stowaways in African ports and laying down effective strategies to curb the phenomenon.
Stowaways are people who hide in ships to illicitly move from one country to the other. Julian Abril of the Subdivision for Maritime Security and Maritime Safety Division of the IMO said these people pose a security threat to seaports and bring them disrepute. Michael Luguje, Secretary General of the Port Management Association of West and Central Africa says stowaways constitute a major problem to the maritime industry as a whole.
"If shippers know that illegal passengers can easily access ships in your port, they may stop using your ports for fear of the safety and security of their ships and goods therein" he said.
According to the General Manager of Cameroon's National Ports Authority, Josue Youmba, stowaways, some of whom carry firearms into ships with the intent to rob, threaten the security of crews and vessels. They also prompt extensions of waiting time for certain ships that are obliged to subscribe to declaration procedures.
Josue Youmba noted at the opening of the on-going seminar the IMO is leaving no stone unturned to reduce illegal migration through ships; a phenomenon which has cost African ports an estimated loss of 15 million US dollars (circa eight billion FCFA) in recent years. The seminar, he said, is a follow up to two others organised in 2014 to fight against stowaways.
Participants are expected to examine the impact of the previous seminars, strengthen technical cooperation between ports and define more effective mechanisms to reinforce security and safety on ports and ships. Participating ports are those that register high numbers of stowaways. These include ports in Ghana, South Africa, Nigeria, Kenya, Ivory Coast, Senegal, among others.
Cameroon is among countries with acceptable reputation as far as stowaways are concerned. Minister Ngale Bebehe says the country has taken several measures to prevent such unwanted activity, noting that 19 of Cameroon's 24 port installations are certified according to the international convention for safety of life at sea.
Same category