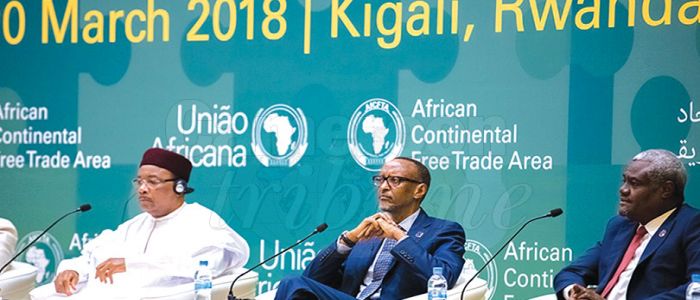 The agreement signed yesterday in Rwanda gives birth to the world's largest free trade area and bolsters regional integration.
A forty-year-long process of African unity has finally materialised with the signing of an agreement establishing the African Continental Free Trade Area (ACFTA) by 44 countries on the continent.
The agreement was signed Wednesday March 21 in an Extraordinary Session of the Assembly of African Union Heads of State and Government, hosted in Kigali, Rwanda by the country's President Paul Kagame who doubles as Chairperson of the AU. Cameroon's Minister of Finance, Louis Paul Motaze represented President Paul Biya at the gathering.
The adoption of the agreement establishing the ACFTA was followed by the signing of a Protocol on the Free Movement of Persons, and the Kigali Declaration; three pacts which President Kagame described as an expression of African nations' unity in moving the continent forward.
"The Continental Free Trade Area is the culmination of a vision set forth nearly 40 years ago in the Lagos Plan of Action, adopted by Heads of State in 1980. That undertaking led directly to the Abuja Treaty establishing the African Economic Community in 1991." he said.
The signing of the agreement gives birth to the world's largest free trade area. President Kagame said the promise of a free trade and free movement is prosperity for all Africans, "because we are prioritizing the production of value-added goods and services that are 'Made in Africa.' The advantages we gain by creating one African market will also benefit our trading partners around the world, and that is a good thing."
The Chairperson of the African Union Commission, Moussa Faki Mahamat, for his part, enumerated regional trade accords in Europe and Asia, noting; "for Africa, after decades of independence, marked by persistent under-development and a marginal place in the international system, the terms of the debate are laid down in almost Manichean terms: Unite or Perish, as Kwame Nkrumah said at the Addis Ababa founding Summit. He said it was vital to lift barriers that divide the continent, hinder its economic take-off and perpetuate misery.
The creation of a single continental market for goods and services, with free movement of business persons and investments according to the ACFTA, comes along with the founding of the Continental Customs Union and the African Customs Union.
Africa trades far less with itself than it does with the rest of the world. Recent statistics show Intra-Africa trade stands at about 16%, compared with 19% intra-regional trade in Latin America, 51% in Asia, 54% in North America and 70% in Europe.
Going by a United Nations Economic Commission for Africa (UNECA) estimation, the AfCFTA has the potential to boost intra-Africa trade by 53% by eliminating import duties and non-tariff barriers. UNECA says the agreement could create an African market of over 1.2 billion people with a Gross Domestic Product (GDP) of $2.5 trillion.
Same category