Fight Against Polio In Chad, Nigeria: Aliko Dangote, Bill Gates Join Forces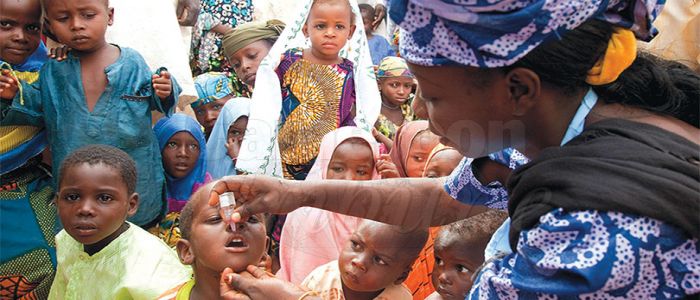 The billionaires are funding and promoting routine vaccination to kick out the virus for good.
Concerned about poliomyelitis or polio virus contamination as a result of the insecurity and displacement caused by the Boko Haram militant insurgency in the Lake Chad Basin, American billionaire, Bill Gates and his Nigerian counterpart, Aliko Dangote have partnered with Chad and Nigeria to eradicate the virus, Radio France International reported.
The two business moguls were in Chad on March 20, 2018 where they met President Idriss Déby Itno and discussed ways of kicking out the virus from the country for good.
Though Chad has not had any recorded case of polio contamination in recent years, observers warn that the insecurity created by Boko Haram attacks has left many children unvaccinated. Moreover, the situation has been compounded by the influx of people from north-eastern Nigeria.
"We discussed how to eradicate polio, get to people on Lake Chad islands and expand routine vaccination cover," Bill Gates said. "President Déby confirmed his commitment to support the fight against polio and save 250,000 lives; and at the same time assist our programme to reach the most vulnerable children in remote areas," Aliko Dangote added.
The meeting in Chad was followed up on March 21, 2018 when the Co-chair of Bill and Melinda Gates Foundation signed a Memorandum of Understanding, MOU with six northern Nigeria State Governors on the extension of routine immunisation in the region.
Thisday newspaper said Bill urged the Governors and traditional leaders to intensify efforts and campaigns in order to ensure maximum coverage. "With increased campaigns, we should be able to get high percentage coverage to check challenges and progress made … We can prevent millions of deaths through routine immunisation. We will not relent in our commitment towards this," Gates noted. He reaffirmed his commitment and support for the eradication of polio in Nigeria.
Alhaji Aliko Dangote, the President of Dangote Foundation said the fight against polio scourge requires sense of urgency and commitment by all stakeholders. He restated his continuous support for the eradication of the disease in the country.
The Sultan of Sokoto, Alhaji Muhammad Sa'ad Abubakar, described poverty as an impediment towards the attainment of a healthy society.
Same category