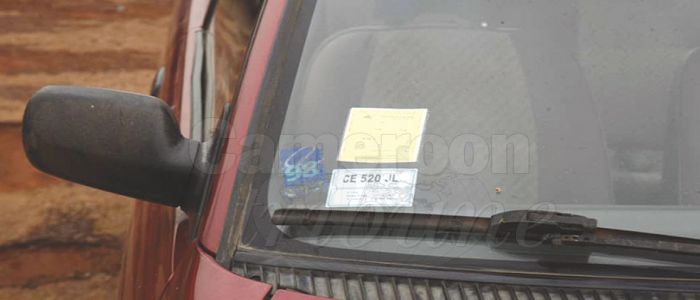 A countrywide operation to ensure the effective payment of the tax popularly known as windscreen licence fee is being carried out by officials of the Directorate General of Taxation
Officials of the Directorate General of Taxation in the Ministry of Finance are carrying out a nationwide campaign to control the effective payment of automobile stamp duty by vehicle owners. The revenue recovery operation kicked off on Tuesday March 27, at the close of the first quarter of the 2018 fiscal year.
According to Ebune Bertrand Njuma, Senior Tax Inspector at the Tax Legislation Unit of the General Directorate of Taxation, the exercise has been going on unperturbed across the country. The Senior Tax Inspector said teams from the Directorate General of Taxation have been carrying out sporadic checks at strategic points so that noncompliant motorists do not dodge from them.
Though the amount of taxes recovered so far thanks to the operation was not readily available by press time, Cameroon Tribune learned the efforts have been paying off. Taxation officials told Cameroon Tribune they were still tallying the amount of money deposited within the last three months at specified taxation centers by insurance companies which now have the responsibility to collect the said taxes from their clients. However, the State revenue accruing from automobile stamp duty last year stood at about FCFA 8.7 billion.
A car owner we accosted at Airport Road in Yaounde, Yves Mbossa said he had paid the required stamp duty in early February 2018. "I paid it at the time I was buying an insurance policy for my car. I am very conscious the State needs such resources for it normal functioning. Moreover, I don't like to be embarrassed during checks," the car owner said.
Others we met disclosed they had yet to pay the tax because they couldn't bear the burden of subscribing to an insurance scheme and paying the automobile stamp duty at a go.
It should be noted the general taxation code specifies that automobile stamp duty be paid by vehicle owners through insurance companies at the time of subscription or renewal of automobile insurance policies. The innovation went in effect last fiscal year. We learned the spirit behind the innovation is to simplify the automobile stamp duty collection procedure.
The payment system is also capable of rendering certain motorists unable to evade the tax payment as it is collected at the same time as insurance premiums from which car owners desist with difficulty. Non-payment the automobile stamp duty attracts fiscal and penal sanctions, or both.
Same category