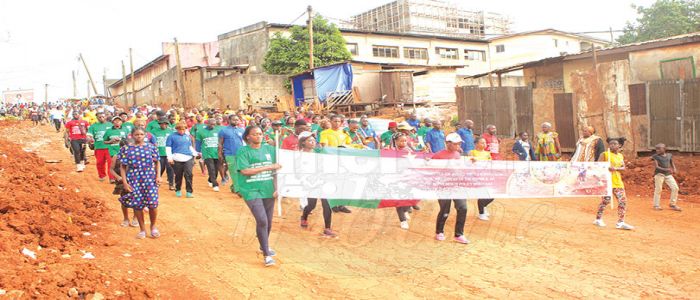 A sports walk was organised in the locality of Etam Bafia on Saturday March 31, 2018.
It was an exceptional day for the inhabitants of Etam Bafia Awae 5 neighbourhood in the Yaounde IV Subdivision on Saturday March 31, 2018. The event was a sports walk that took place in the locality bordered by Mvog-Mbi and Kondengui neighbourhoods.
Organised by the Animation and Development Committee of Awae 5, the sports walk brought together elite from the area from across the country.
The purpose of the walk was to salute the Head of State's decision to tar roads in Etam Bafia. Formerly, Etam Bafia was almost landlocked due to its poor state of road infrastructure but with the new road that will be constructed movement in and out of the area will be easy.
The marchers walked along the streets in Etam Bafia carrying banners with messages of appreciation to the decision of the Head of State. The writings on the main banner read "The Animation Committee of Awae 5 and its surroundings thank His Excellency President of the Republic, Paul Biya and his greater achievements policy which has led to the construction of Etam Bafia roads".
His Royal Highness Ekoa Ekoa Patrice Armand Joseph, 3rd Degree Chief of Awae 5 expressed satisfaction for the gesture. He said the people of Etam Bafia are in support of the decision of the President of the Republic.
The proof, according to him, is that the people of Etam Bafia had already demolished all structures that were along the road before the arrival of the road construction team. He said the major worry is that the people of Etam Bafia are still worried about when they will be compensated after they have demolished their houses for the road construction. He expressed hope that government will see into the problem in the days ahead.
Concerning the expectations of the people he said the people of Etam Bafia expect government to assist them with wells given that the people will face water problems with the road construction project Also to help develop youth projects such as the construction of a stadium which is already in the pipe line
Same category