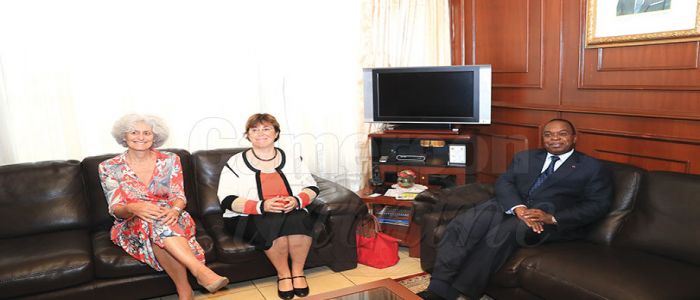 The Minister of Finance held a meeting with officials of the technical partner of the project on April 3.
The construction of the Nachtigal-Amont hydroelectricity power dam will take off soon, going by declarations the International Director of the French energy development company, EDF, made on April 3. The EDF Group's official, Marriane Laigneau, spoke to reporters in Yaounde shortly after a meeting with the Minister of Finance, Louis Paul Motaze on April 3.
She said progress on the preparatory phase of the project is on good footing, especially from the industrial and technical point of view. The design has been completed and stakeholders have a clear view of the architectural structure of the dam, according to Marriane Laigneau. She also revealed that an agreement has been reached with all the stakeholders namely the government of Cameroon, EDF, the World Bank Group and SFI.
"We have a lot of lenders taking part in the project and they are all completely committed to seeing that the project is successful. We are still to be settled with some concessions and ENEOs investment plan is still negotiated. But that is not really an obstacle. We are working together to reach the financial closing for the project." She said, noting that financial negotiations are on good footing. Indemnities had also already been paid to citizens who had to vacate their landed property in the zone where the dam will be constructed.
The Nachtigal dam is expected to produce 420MW, sourced from the Sanaga River. It is projected to independently produce a third of the national energy supply.


Same category