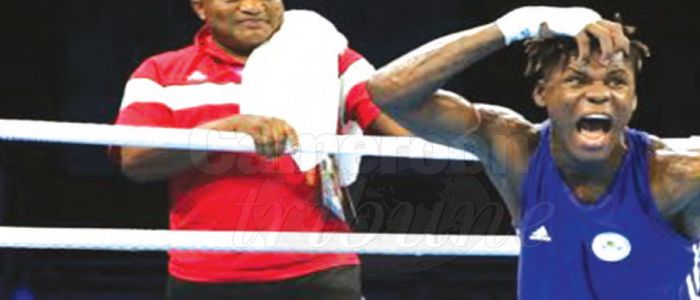 Six days into the competition the country is still in search of medals as the elimination of some of its athletes continues.
Seyi Wilfred has won his second fight in the 75kg boxing competition at the ongoing Commonwealth Games in Gold Coast, Australia. The victory has put smile on the Cameroonian delegation out there in Australia as the chances for winning medals appear to be slimmer every day.
It has not been an easy start for Cameroonian athletes at the Commonwealth Games in Gold Coast, Australia. Even though the men's basketball team won their first game against India and the first victories of Seyi Wilfried and Arsene Fokou in boxing, all does not seem to be going on well for team Cameroon given the high level of the competition.
Six days into the competition Cameroon is still in search of medals. Yesterday, April 8, 2018 was a difficult day for Cameroonian athletes. In 100m athletics race Appes Ekanga finished fifth in the heats and was eliminated from the competition. Charifa Labarang did not finish the race in her group. She suffered a thigh stretch that put her out of the competition.
Marie Giselle Eleme was equally eliminated in the competition. Another bad news for Cameroon was in weightlifting. Fouodji Sonkbou Archangeline finished 9th while Minkoumba Petit David was 6th. On Saturday Donald Nkoh (85kg) finished fourth after lifting a total of 326kg. In basketball Cameroon lost to England 81-54 during their second outing.
Cameroon has thus been eliminated from the competition. With two of Cameroonian boxers Azangue Aubierge (69kg) and Simplice Fotsala out of the race the hope for Cameroon lies on Fokou Arserne (+91kg). Arsene Fokou will enter the ring on Tuesday April 10, 2018. He will fight with Keddy Agnes from Seychelles. The bronze medalist at the World Boxing Championship in Hamburg, Germany in 2017 is a medal hopeful and is expected to help Cameroon bag home a medal in his category.
Apart from that Cameroon is still hoping for medals in athletics. The Secretary General of the Cameron Athletics Federation, Charles Kouh Kotteh said Cameroon has a good relay team and that there is still hope for medals for the team. He said in the field event Cameroon can count on triple jump and long jump athlete, Sandrine Mboumi, Mayack II in the same disciplines.

Same category