Export Of Fruits, Vegetables: Experts School Stakeholders On Sanitary Norms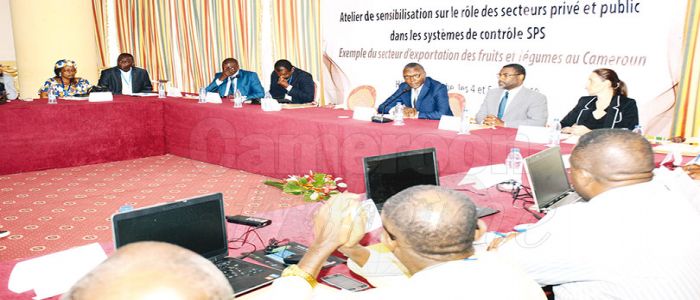 Public and private actors have been sensitized so they become abreast with latest international standards in the sector so as to increase the country's export of the products.
Of recent, the sanitary situation of fresh foods has been a major concern to consumers, agro-industries and governments. Similarly, many countries and companies have been revising their standards and norms in terms of food safety. The development is coming at a time Cameroon has adopted a policy to boost exports and increase foreign earnings.
It is in this light that a two-day workshop was organized to sensitise public and private sector actors on their role on the application of Sanitary and Phytosanitary Measures (SPS) for the exportation of fruits and vegetable within the context of Africa, Caribbean and Pacific (ACP) countries.
The workshop which opened in Yaounde, Wednesday April 4, was organized by the government; through Task Force Cameroon, in collaboration with European Development Fund National Authorising Unit (CAON-FED) and the Europe-Africa-Caribbean-Pacific Liaison Committee (COLEACP).
Going by Babacar Samb of Bioscope, an expert of COLEACP, the training will help participants acquaint themselves with principles, aspects and exigencies of a National Control System of SPS, in reference to regulations and international norms in place, as well as private company norms.
Participants also charted an action plan to reinforce the National Control System of SPS in Cameroon. The sensitization workshop will in addition help stakeholders to make their products reach CAMER-G.A.P (Cameroon Good Agricultural Practices) certification.
We learned the main objective is to enable smallholders, farmer groups and organisations, to access international and domestic horticultural markets by complying with SPS issues and market requirements, in a sustainable framework.


Same category