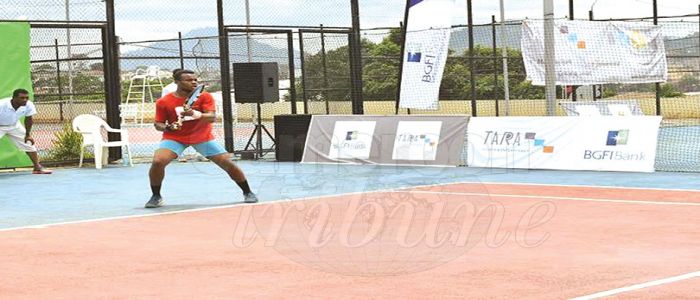 The fourth edition of the international lawn tennis tournament ended in Yaounde on Saturday April 7, 2018.
The Yaounde Tennis Club was the venue of the fourth edition of the International Lawn Tennis tournament called MIMA Youth Open 2018. Organised by TARA Sports and Entertainment, the competition brought together about 200 athletes from Cameroon, France and Gabon.
For one week lovers of lawn tennis from Yaounde and its environs trooped to the venue to watch young children display rich talents in the sport. The athletes competed in the minor, benjamins, cadet and junior categories.
In the junior men's final, Hadrien Ndouboug who came all the way from France beat Djomo Etele 2-1 sets (6-0, 4-6, 6-2). In the junior women's final Linda Eloundou thrashed Vallerie Essome 2-0 sets (6-4, 6-2).
In the cadet men's category, Ngaba Melanga beat Zemo Princewill 2-0 sets while in the women's category Motale Ashley beat Adamou Rachid 2-0 sets. I
n the women's minor category Mformi Stadphany beat Atana Beraka 2-1 sets while in the men's category Ndoy Fladimir beat Atana Jonathan 2-0 sets. In the men's benjamins category Ndonfack Herman beat Okala Valentin 9-3 and in the women's catehory Nguimbis Serena beat Fozo Channel 9-1.
In the kids category Kam Warraï beat ali Nabin 7-4 and in the women's category Ebenye Sara beat Fokou Serena 3-1.
The General Manager of Tara Sports, Eliane Nana, expressed satisfaction with the performance of the athletes and the hospitality of the Yaounde public. She congratulated the massive participation of athletes from the Northern part of Cameroon which according to her, is proof that lawn tennis is developing in the country.
She said the competition will come back to Yaounde because it is easier for athletes from the Far North to come to Yoaunde and also because of the quality of the infrastructure Yaounde offers. She also said plans are underway to include the competition in the calendar of the International Tennis Federation.

Same category