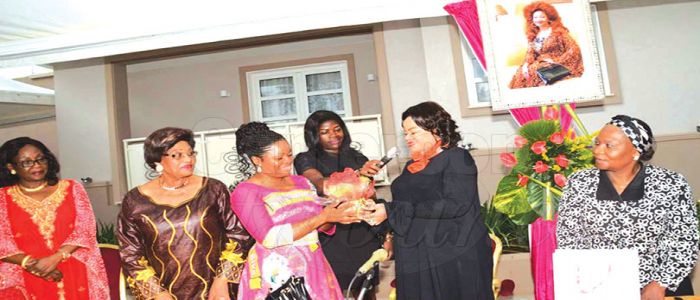 Members of the association expressed gratitude to a departing staff as she moves to her new duty post in Paris.
In an atmosphere full of emotions, members of the Circle of Friends of Cameroon (CERAC) have bade farewell to one of theirs, Perpétue Félicité Menye Onana epse Owona, who was Assistant at the cabinet of the Founding President of CERAC in charge of the Diplomatic Wing.
According to the Presidential decree N°2017/544 of November 7, 2017, she was appointed First Counsellor at the Cameroon's Embassy in France.
With instructions from the Founding President of CERAC, First Lady, Chantal Biya, the General Coordinator of CERAC, Linda Yang, last Thursday, April 12, 2018 alongside members of the national and diplomatic wings of CERAC organised a send-off party as a sign of appreciation and encouragement to Menye Onana Perpétue Félicité for her 13- year services to CERAC.
On the occasion, Linda Yang said it was a difficult moment to separate with a dear one like Perpétue Félicité, whom the association saw growing to a woman and a dynamic diplomat.
In spite of all her commitment at the Ministry of External Relations, the General Coordinator said Menye Onana Perpétue Félicité was able to devote her time for the humanitarian activities of the First Lady. While acknowledging that God will reward her sacrifices for the sick and vulnerable group of people, Linda Yang, on behalf of CERAC and its Founding President, said "Thank You" Mrs Owona Perpétue Félicité for accepting to work with CERAC.
The Chief of Cabinet of the Founding President of CERAC, Oswald Baboke, who is also the Deputy Director of the Civil Cabinet of the Presidency of the Republic saluted the 13 years of professionalism, determination, bravery and the ability to adapt which the out-going assistant had while working in a cabinet where she remained the only woman to assume high, pressing and delicate duties.
He told Perpétue Félicité Menye Onana that her appointment is a turning point in her young career, which she needed to handle with prudence while continuing to believe in herself, just as CERAC had believed in her 13 years back when she had just left the school of diplomacy.
Oswald Baboke urged Menye Onana Perpétue Félicité to continue to restore dignity and solidarity wherever she goes while being social and sensitive with a spirit of bilingualism and living together. In her wildest dream, Owona Perpétue said she could never have imagined such an occasion organised in her honour.
She thanked the First Lady who had placed much confidence in her which has today put her at the forefront in Paris.
Same category