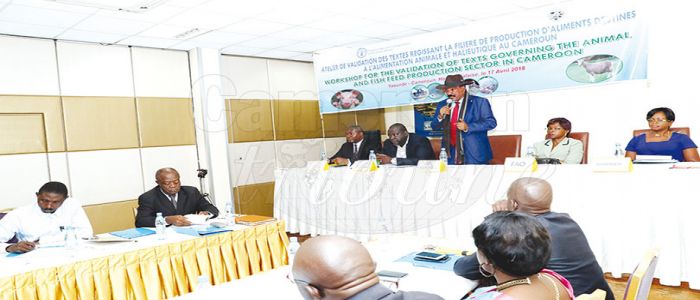 The texts adopted April 17 were drawn up by an inclusive panel of experts from the FAO, government ministries plus consultants and stakeholders in the private sector.
A one-year process of revising texts governing the animal and fish feed production sector in Cameroon has culminated in a validation seminar that the Food and Agriculture Organisation (FAO) organised in Yaounde yesterday April 17.
Speaking at the workshop organised in collaboration with the Ministry of Livestock, Fisheries, and Animal Industries (MINEPIA), the Assistant Resident Representative of the FAO, Felicitas Atanga, said that government sought the assistance of the institution to revise the existing texts which date as far back as the '70s because it found them lacking and needed to make them adaptable to present realities.
All stakeholders such as government ministries, international and local consultants, farmers, feed producers and importers were brought on board to take part in the revision. The reason, she said, was to enable acceptability and understanding of its implementation when parliament eventually passes it into law.
The Director of Pasture, Feed and Livestock Infrastructure at MINEPIA, Prof. Etienne Pamo Tedonkeng, told reporters that the evolution of science made the revision of the old texts unavoidable.
He said to ensure that animals and fishes are fed good quality feed that match their nutrition needs, the country is supposed to have appropriate texts. "For instance, we found out that some feed imported from China were causing health problems to animals and there were no provisions of the law that stipulated what is supposed to be done in such as case. The new texts prescribes sanctions to be levied on persons caught selling inappropriate feed.
It suffices to buy a sample of the product, take it the lab for testing and determine its specific composition," he disclosed. He also said the texts will oblige producers and suppliers who used to deceive unsuspecting farmers to change.
Experts say the feeding of animals amounts to 70 to 80 per cent of the production cost in the animal and fisheries sector. The new text (totalling ten specifications) is expected to protect all activities in the domain.
Same category