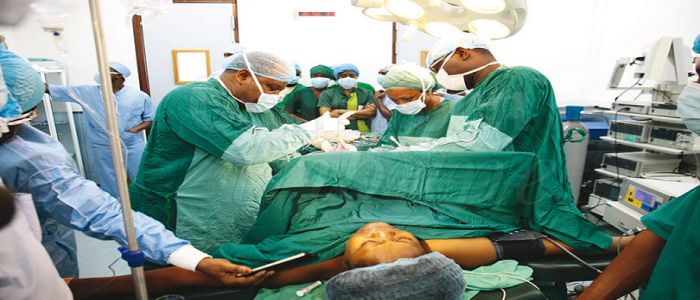 Under the patronage of the Head of State, surgeons worldwide will gather in Yaounde, April 23 - 27, 2018.
Preparations are reaching high gear at the Gynaecological Endoscopic Surgery and Human Reproductive Teaching Hospital Paul and Chantal Biya (CHRACERH) in Yaounde ahead of the international congress of the International Society For Gynaecologic Endoscopy (ISGE)/ African Society for Gynaecological Endoscopy (AFSGE). The 27th congress will bring the world's leading gynaecological surgeons to Cameroon from April 23-27.
Holding under the distinguished patronage of the President of the Republic, Paul Biya, hundreds of participants from all the continents in the world will gather at the hill-top Yaounde Conference Centre to consider the future of minimally invasive gynaecological surgery (MIGS) which according to the President of the International Society, Robert O'Shea, has an important role to play in the on-going development of medical services across Africa and around the world.
Discussions at the congress organised in partnership with CHRACERH will focus on the theme: "Gynaecological endoscopic surgery and fertility issues, pelvic adhesions, tubal pathologies, adnexal pathology, abnormal uterine bleeding, fibroid, endometriosis, oncology." Robert O' Shea in a message to participants says the congress is offering a broad range of pre-congress workshops which will lead to an exciting programme covering endoscopic and vaginal surgery.
The President of AFSGE, who is also the local organising committee chair, Professor Jean Marie Kasia, has explained that the theme adopted for the congress provides topics ranging from anatomic issues, prevention of surgical complications to suturing and stitching techniques.
In addition to comprehensive lectures, Prof. Kasia says the main attention during the congress will focus on fertility, amongst other gynaecological issues with onthe- spot surgeries conducted by national and international experts.
The different sessions during the congress will be organised with most of the world leading speakers in the field of Gynaecological Endoscopic Surgery so as to bring basic and advanced knowledge to African gynaecologists as well as debates on progress in the field from the last decade.
Pre-congress training sessions are being organised at various levels, namely postgraduates courses to enable advanced surgeons develop skills as far as hysteroscopy, vaginal surgery and laparoscopic suturing are concerned. A precongress intended for young endoscopists and theatre nurses has also been organised with focus on the basic tips and tricks in endoscopy .
Same category