Commonwealth Games:Government Honours Medalists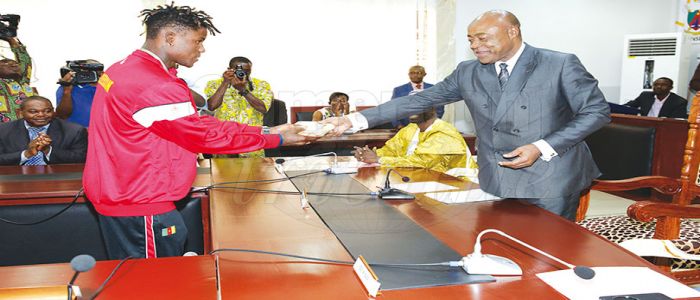 A ceremony to welcome three athletes who won medals for Cameroon at the Commonwealth Games took place in Yaounde yesterday April 19, 2018.
The premises of the Ministry of Sports and Physical Education in Yaounde were exceptionally busy yesterday April 19, 2018. The event was an official ceremony to honour three Cameroonian athletes who won medals for Cameroon at the just-ended 21'st edition of the Commonwealth Games in Gold Coast, Australia.
They are Wilfried Seyi who won silver in the 75kgs boxing, Clementine Meukeugni, bronze 90kgs weightlifting and Marcel Mayack II, bronze in the men's triple jump. Speaking at the occasion the Minister of Sports and Physical Education, Bidoung Mkpatt said the athletes have participated in a remarkable way in the greatest multisport competition after the Olympic Games.
He said Cameroon is proud of their performance. He said through their prowess they have proven once more to the world the dynamism and vitality of the Cameroon sports movement. He said they are worthy ambassadors of Cameroon and that their effort is a symbol of bravery and an example for other young Cameroonians to follow.
He assured the athletes of government's support as they continue in the efforts. Bidoung Mkpatt also used the opportunity to congratulate and encourage all the athletes and officials of Team Cameroon for their courage and patriotism. Minister Bidoung Mkpatt handed over special prizes from the government to the athletes.
The athletes went home with a cash prize of FCFA 3 million for the silver medal, and FCFA 2 million each for the bronze medals. Cameroon participated in the 21'st Commonwealth Games in six disciplines out of 71 countries in the Commonwealth. Cameroon finished in the 32nd position with three medals, one silver and two bronze.
Same category