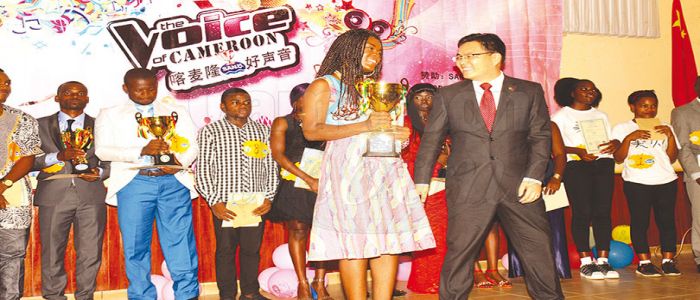 Un concours baptisé « The Voice Cameroon » y a contribué le 17 avril dernier à Yaoundé.
La cinquième édition du concept « The Voice Cameroon », s'est bouclée avec la consécration de Karell Bayiha, le 17 avril dernier à Yaoundé. Son trophée, elle l'a remporté après avoir brillé à chaque étape. En effet, les candidats à cette compétition de chant en langue chinoise, organisée à l'Institut Confucius au sein du campus de l'Institut des Relations Internationales du Cameroun (IRIC), ont vécu plusieurs passages devant un jury exigeant, des personnalités comme le directeur de l'IRIC, Salomon Eheth, et le directeur général de la société accompagnatrice du projet, Liu Gui Xiong.
Pour les jurés, les critères de sélection étaient non seulement basés sur la prestance, mais visaient également d'autres aspects. « Nous avons noté les candidats sur l'occupation de la scène et la chorégraphie.
D'autres critères de sélection reposant surtout sur l'émotion transmise par les finalistes lors du chant ont été aussi pris en compte », a expliqué Jiang Yui Jiao, directrice générale de l'Institut Confucius, par ailleurs présidente du jury. Des 15 candidats venant de Yaoundé, Douala et Maroua, Bertilie Karell Ngo Bayiha est celle à qui revient le prix.
Sacrée par Sun Wei, premier conseiller auprès de l'ambassade de Chine au Cameroun au terme du concours, l'étudiante de 22 ans à l'Université de Maroua, en plus de sa coupe, a empoché de nombreux lots offerts par le partenaire de l'évènement, ainsi qu'un chèque de 650.000 F et un parchemin.
Les autres candidats ont aussi reçu des lots offerts par ladite entreprise. Outre ces récompenses, des prix ont été remis aux étudiants ayant participé à la tombola organisée par la société partenaire. Il s'agit notamment de palettes d'eau SANO. La coupe « The Voice Cameroon est une action soutenue par l'Ambassade de Chine au Cameroun, afin de développer, de promouvoir et d'accompagner l'apprentissage de la langue chinoise ».
Same category