Farewell ReceptionTo Chinese Ambassador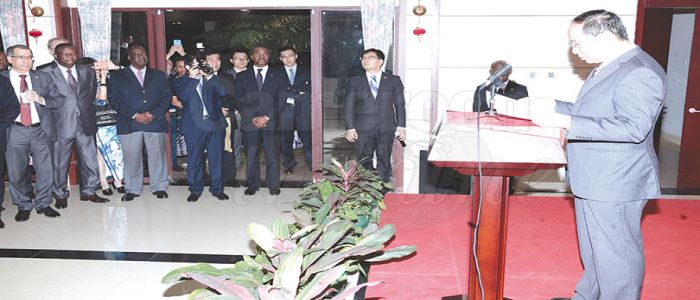 Carnet diplomatique
Local dignitaries and foreign diplomats on April 20, 2018 felicitated Wei Wenhua for his achievements in three years.
The evening reception in the Chinese Embassy in Yaounde's Bastos neighbourhood on Friday, April 20, 2018, was attended by amongst others by the Minister of Communication, Issa Tchiroma Bakary, his counterpart of Public Health, André Mama Fouda. Also invited was the General Manager of Cameroon News and Publishing Corporation, SOPECAM, publisher of Cameroon Tribune newspaper.
In his address, Paul Patrick Biffot, Gabonese Ambassador to Cameroon and Doyen of the Diplomatic Corps in Cameroon, noted that Wei's tenure contributed immensely in boosting relations and cooperation between the two nations in areas such as public infrastructure, skills development, education and health. Wei Wenhua who arrived in Cameroon on January 6, 2015, leaves on Friday, April 27, 2018 with memories of pride, joy and gratitude. His achievements include boosting relations with Cameroon.
After the visit to China by Prime Minister Philemon Yang in June 2015, President Paul Biya was in Beijing last month on his sixth visit. Wei said win-win cooperation between the two nations in the past three years reached heights. China maintains its position as Cameroon's largest trade and financial partner, with major infrastructure projects in various areas to show.
Following President Biya's recent visit to China, Beijing agreed to donate to Cameroon this year 400 million RMB (34 billion FCFA) for the construction of a new National Assembly building, and 594 million RMB (50 billion FCFA) for water projects in nine towns in the country. Cameroon is one of the African countries with the highest number of students in China, he disclosed.
Since August 2017, the agreement on mutual exemption of visas for holders of diplomatic passports took effect. In a matter of days, the Table Tennis Centre in Yaounde donated by China to Cameroon will be commissioned. Some 627 Cameroonians were operated for cataract by Chinese medical teams. Wei's tenure permitted him to witness Cameroon's growth under the guidance of President Paul Biya, and how the country was able to surmount certain challenges, he said.
The outgoing Ambassador congratulated all those who worked with him in the past three years to make his task easy. "Cameroon is China's major partner in Africa, and Beijing is ready to continue to offer its sincere support to the socioeconomic development of Cameroon," he noted. China has made tremendous progress under President Xi Jinping, and will continue its peaceful development and win-win cooperation with other nations, he added.
Wei Wenhua announced that the next leaders' summit of the Forum on China-Africa Cooperation, FOCAC, holds in the Chinese capital, Beijing, next September. Leaders from both sides will discuss the strategy for renewed cooperation. The last summit took place in December 2015 in Johannesburg, South Africa.
Same category