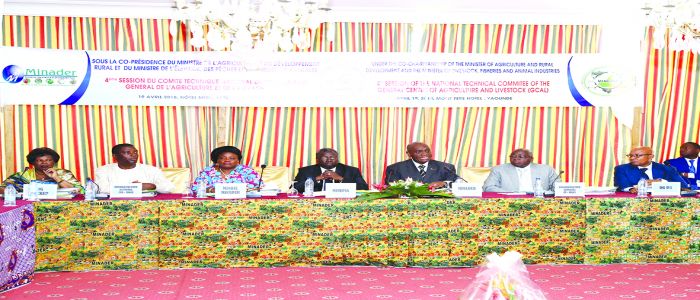 This was disclosed at the 4th session of National Technical Commitee for the General Census of Agriculture and Livestock on April 19, 2018.
The National Coordinator of the General Census of Agriculture (GCAL) says everything is set for the collection of data on agriculture and livestock nationwide. He was speaking to reporters in Yaounde on April 19, shortly after the Minister of Agriculture and Rural Development, Henri Eyebe Ayissi and the Minister of Livestock, Fisheries and Animal Industries, Dr Taiga, jointly opened the 4th session of the National Technical Committee for the General Census of Agriculture and Livestock.
He said all preparatory activities leading up to the census were satisfactory. "A recruitment process for data collectors is underway and we are ready to complete our job within deadline. But there is a financial problem that needs to be solved," he noted. Set up to solve the issues of acute data deficiency in the country's agropastoral sector, the GCAL, is expected to produce and publish reliable data that would enable government and rural sector stakeholders make strategic choices and planning.
Between May 29 and June 29, 2017, a pilot phase of data collection in seven regions, identified 6, 295 farms among agro-pastoral households in 74 enumeration zones. The GCAL also carried out a participatory mapping and community survey between 2016 and 2017 throughout the national territory.
The exercise carried out as a joint operation with the 4th General Population and Housing Census covered 17, 001 villages in 360 subdivisions. These and other achievements were facilitated by support from the FAO, International Fund for Agricultural Assistance.
Same category