North West: Governor Condemns Harassment At security Posts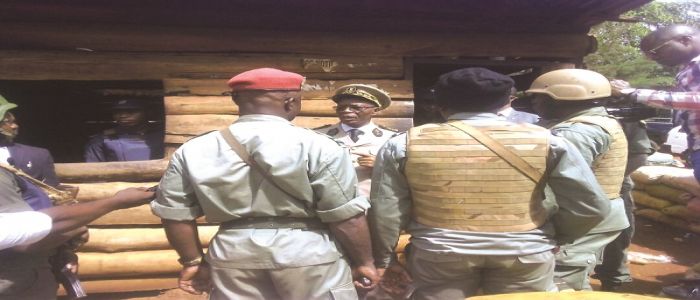 North West governor, Adolphe Lele Lafrique spent April 23, 2018 encouraging security forces and stressing discipline and professionalism at control posts in efforts for normalcy to return.
North West Governor, Adolphe Lele Lafrique spent, Monday, April 23, 2018 encouraging and inspiring security forces to showcase discipline and professionalism in their mission to protect people and property in the face of the socio- political crisis rocking the region.
Governor Adolphe Lele Lafrique was on the field to size up security operations at control points in Mezam Division. It was against this backdrop that the Governor congratulated security forces and urged them to stay vigilant and turn full circle in the protection of people and property without harassing the population.
Accompanied by Mezam SDO, Songa Pierre René, the outing on the field took the Governor to security control posts at Mile III, Akum, Sabga, Bafut, Bali and the Camp of the Rapid Intervention Battalion (BIR) in the neighbourhood of Mankon. It emerged from the outing that the security forces are facing some challenges, which the Governor committed to feature for handling by the concerned hierarchy.
He saluted the security forces for standing by the nation in efforts to check enemies who want to take the region and the population hostage. He equally appealed to the population to collaborate with Security Forces. "See something, say something" was his prescription to the population in overall efforts to neglect nothing to give the North West region a chance for things to return to normalcy.
Same category