Synechiae, Fibroids, Cervical Cancers: Women Receive Specialised Treatment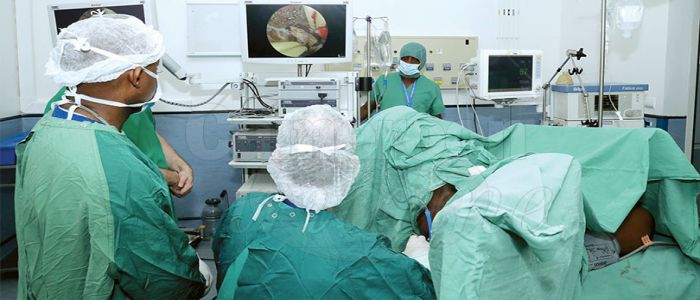 Some 10 to 15 patients suffering from these gynaecological pathologies have been operated upon during the on-going gynaecology congress.
Last month, during routine screening of women on different gynaecological pathologies at the Gynaecological Endoscopic Surgery and Human Reproductive Teaching Hospital Paul and Chantal Biya (CHRACERH) in Yaounde, some of them were diagnosed with uterine synechiae, cervical and breast cancers.
Amongst those with cervical cancers, the Administrative Director of CHRACERH, Professor Jean Marie Kasia said they had some women who had pre-cancer legion which is the step before real cancer.
At this stage, medically, he said something positive or corrective could be done. But when it is already a real cancer case, the expert said a surgical intervention can take place alongside other complementary treatments. But the success of this will depend on the extent to which the disease has gone. The ideal moment to handle women with pre-cancer stage was at the on-going International Congress for Gynaecological Endoscopy.
And it went live, when the cases were being handled by renowned scientists. Since April 23 at CHRACERH, surgeons from all the seven continents have been operating on women with cervical cancer through a Total Laparoscopic Hysterectomy (TLH).
This is the total removal of the uterus through an endoscopic surgery. Prof. Kasia explained that during the surgical session everything was done by endoscopy even the stitching of the wound was done internally, leaving no scars. After the TLH, Prof. Kasia said that the patient was completely treated from cancer leaving no room for any future infection.
However, the experts underscored the fact that this is a solution for women who are already under menopause and do not need children. Several cases of Laparoscopic Myomectomy have also taken place to get rid of fibroids in some women. Another type of endoscopic surgery which is passing through the vagina to the uterus has been done during the congre...
Same category