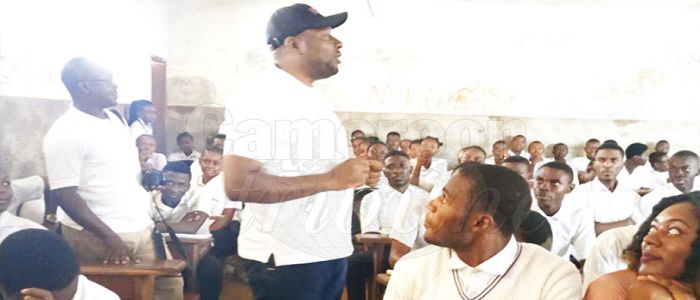 Several workshops organised and visits to educational establishments as part of commemorative activities to celebrate the world press freedom day.
May 3rd for the past 25 years is celebrated worldwide as World Press Freedom Day. The yearly event offers an opportunity to commemorate the fundamental principles of press freedom, pay tribute to those who have lost their lives in the exercise of the noble profession and highlight the importance of freedom of information as a cardinal pivot to democratic governance.
This year's celebrations were marked under the theme "Keeping Power in Check: Media, Justice and the Rule of Law", with members of the Yaounde Chapter of Cameroon Association of English Speaking Journalists (CAMASEJ) encouraging the practice of responsible journalism through the respect of the principles and deontology of the profession.
It is against this backdrop that CAMASEJ members made strategic visits to some schools in Yaounde with the objective of inspiring students of journalism clubs. Going by a press release from the association, the selected schools were the Oxford Comprehensive High School, Government Bilingual High School, Holy Infant High School and Government Bilingual Practicing High School.
The President of CAMASEJ Yaounde, Viban Jude, told the press during their tour that they are in their own quota contributing to a vibrant press in the country. "CAMASEJ Yaounde has a blend of print, audio-visual and online media organs. We meet constantly to exchange ideas on how we can improve the profession and seek ways of overcoming challenges. On such a day, we celebrate our colleagues who brave the odds to keep the population informed. We keep encouraging responsible and accountable reporting," he stated.
They equally had discussions on issues of the media and transparency in the political process, contemporary challenges in ensuring press freedom amongst others with guess speaker Prof Willibroad Nze-Ngwa.

Same category