Industrial Security: Indigenes Reassured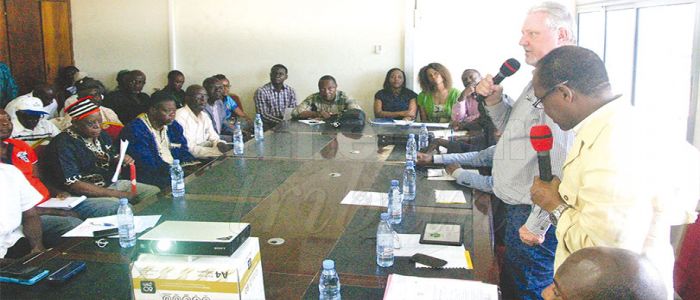 Inhabitants of Logbaba and Ndogpassi in the Douala III municipality met with GDC recently.
Though grave incidents hardly occur in industrial zones, companies operating in such zones and in inhabited zones always put maximum security in place and pre-emptive measures to avoid and mitigate incidents.
Accidents like gas escape and explosions are some of the deadliest when occurred. But with all security measures put in place, the company and inhabitants life are secured. To remove the thought of incidents in the minds of the population, companies once in a while organise consultation meetings with the local population.
One of such companies, Gaz du Cameroun, dialogued with the chiefs and indigenes of Logbaba and Ndogpassi neighbourhoods in Douala III, reassuring them of the total security of the Logbaba power plant, wells and pipelines in the area.
The Managing Director of Gaz du Cameroun, Eric Friend, disclosed that the security of the local population is their greatest priority and will do everything possible to avert any unpleasant happening. Away from security, he promised better social amenities to indigenes.
"We will make sure you benefit from our presence and we will make a larger effort for better days for your children. We also have plans to encourage businessmen, and we are drawing up a plan on what we think we can do for the community but we also want you to present concrete proposals of what you need," he mentioned.
However, the chiefs and local population's worries on security and the provision of social amenities melted after the clarifications and promises of GDC, but reiterated that there should be regular meetings with the population in their villages.
Earlier, the D.O for Douala III, the Regional Delegate of the Environment and the representative of SNH enjoined the population to be patient because all their needs cannot be provided instantly but will be provided as time goes on.
The presentation of company's activities by Corporate Social Responsibility Supervisor, Annick Nyobe, and Environmental Officer, Juliet Tazo Asaba, reminded the population of what the company has given back to the community so far and what they will do.