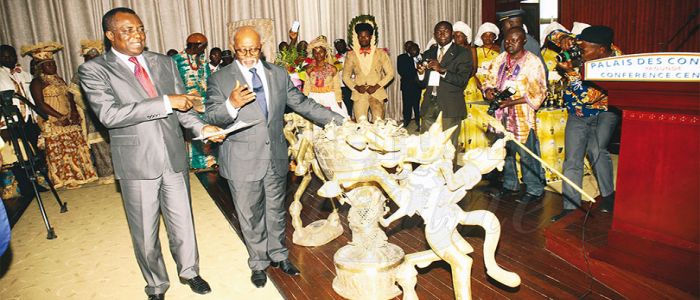 The works of local craftsmen will henceforth be displayed in diplomatic missions abroad following an announcement made in Yaounde May 4, 2018.
The Minister of External Relations, Lejeune Mbella Mbella and the Minister of Small and Medium-sized Enterprises, Handicraft and Social Economy, Laurent Serge Etoundi Ngoa, have agreed to showcase the works of Cameroonian craftsmen in diplomatic missions abroad.
This was disclosed at the end of the International Handcraft Exhibition of Cameroon (SIARC) which rounded off in Yaounde on May 4 with the award of prizes.
On the occasion, Minister Mbella Mbella was handed some of the best Cameroonian craftwork and accompanying explanation notes to be displayed in the country's embassies in Italy, Germany, France, USA, France, Japan and the United Kingdom, among others.
Minister Etoundi said it is the wish of the President Paul Biya that Cameroonian culture, which is acclaimed by UNESCO, should be displayed everywhere around the world. He told officials from Senegal, Ivory Coast and Burkina Faso that Cameroonian crafts men and women will equally be attending international handicraft exhibitions in their respective countries.
While accepting the craftwork, Minister Mbella Mbella noted that diplomacy nowadays is no longer classical. He said diplomacy currently includes sports and culture and hailed the idea of providing diplomatic services with a possibility of selling the national culture to the world.
Recommendations that emerged from SIARC were equally tilted in a business perspective. They begged government to lift customs duties and taxes on handicraft products in order to enhance regional and international exchanges. The craftsmen also exhorted government to popularize information on fair trade which is a form of commerce with rules and regulations, yet, not well known by local craftsmen. They requested more regular training and capacity building seminars.
They also suggested a map of the country's handicraft should be drawn up so that an inventory of handicraft products could be made available to citizens to facilitate trade through fair trade channels.
They got an immediate response from the Minister as regards their request for a government-PRESCRAFT (Presbyterian Craft Centre, Bamenda) partnership for the promotion and sale of crafts with fair trade networks.
PRESCRAFT is the lone Cameroonian handicraft enterprise with established expertise and international recognition, well known in spheres of international trade. The Minister told them reassuringly that the partnership request is of prime importance and will be handled soon.
Same category