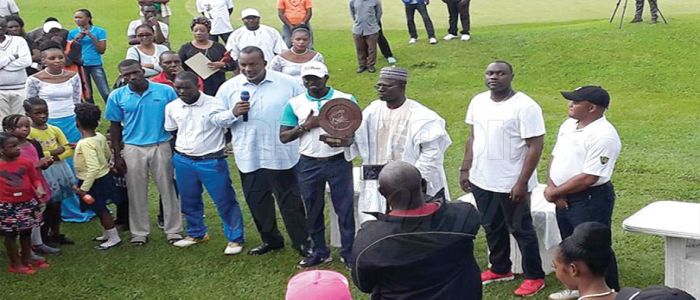 The final of the 9th edition of the Yaounde International Open tournament ended in on Saturday, May 12, 2018.
The premises of the Yaounde Golf Club on the slopes of Mont Febe a Yaounde neigbourhood were exceptionally busy on Saturday May 12, 2018. The event was the final of the 9th edition of the Yaounde International Open tournament.
Organised by the Cameroon Golf federation (FECAGOLF), the competition brought together golfers from nine countries from Africa and France. Cameroon was represented by the Yaounde Golf Club and the Likomba Golf Club.
The Secretary General of the Ministry of Sports and Physical Education, Oumarou Tado, presided at the closing ceremony. The players competed in the amateur and professional categories.
For one week, inhabitants of Yaounde and its environs had an opportunity to discover new techniques in a sport discipline that is believed to be reserved for the rich. At the end of the competition, Nigeria's Andrew Odoh Oche emerged winner.
He was able to accumulate a total score of 286 points after four days of stiff competition. He bagged home prize money worth FCFA 6, 5 million. Côte d'Ivoire's Kouame Kouakou R. was second with 289 points and his fellow compatriot, Djezou Kouassi R. was third with 290 points.
The best Cameroonian in the competition, Désirè Ebela finished fourth scoring 291 points. In the youth categories Bruny Eloundou, Jules Cinot and Eammanuel Eve Pondi emerged winners in their categories.
The President of the Cameroon Golf Federation, Ahanda Assiga Yves, expressed satisfaction with the turn out of the competition and the performance of the Cameroonian golfers. One of the major attractions of the competition was the presence of former Indomitable Lion, Patrick Mboma, who was a special invitee of FECAGOLF.
He used the opportunity to congratulate and encourage the golfers in their efforts. The next edition of the Yaounde International Golf Open tournament will take from May 5 to 11, 2019. The event took place in the presence of members of the diplomatic corps, international organisations and other invitees .
Same category